Payment not required
There is no free version of 1Password. RoboForm Free lets you store an unlimited number of Logins locally on a single device.

Full IE support
Need or want to use Internet Explorer as your browser? 1Password discontinued support for IE, forcing users to copy and paste their credentials into the browser. RoboForm, however, supports all major browsers including IE and Edge.

Bookmarks for quick and easy viewing
Unlike 1Password, RoboForm lets you bookmark your favorite sites for quick and easy access across all of your browsers and devices.

Share one item at a time
RoboForm Everywhere does it with ease. 1Password forces you to create a separate Vault in order to share items with others.

Log in to Windows applications
While 1Passwords limits saved Logins to websites, RoboForm lets you save your Windows application passwords too.

Emergency Access
Grant a trusted contact access to your RoboForm data in the event of death, incapacitation, or simply as a method of account recovery.

Support when and how you need it
RoboForm gives you more options for support than 1Password. In addition to our 24/7 online support system, you can send us a Facebook message, chat in, or request a callback. We're here to help!
Features available as of 02/12/2020
RoboForm version 8.6.6 and 1Password version 7.3.712 tested side-by-side on Windows
Premium features per 1Password.com
Importing from 1Password to RoboForm
Is As Easy As 1-2-3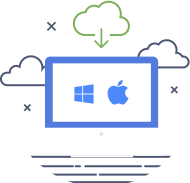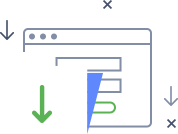 2
Export Your
1Password Data