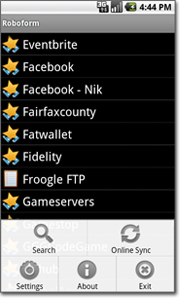 RoboForm voor Android OS
RoboForm voor Android
RoboForm wachtwoord manager is nu beschikbaar voor Android apparaten.
Dit is een Gratis App. Huidige versie is 8.1.7.
Installatie
Open de Google Play Store op uw Android apparaat.
Zoek naar RoboForm en installeer de app.
U kunt de app ook downloaden van onze servers.

RoboForm voor Andoird werkt met Android versie 2.2 of hoger.
Kenmerken
Eén klik login op uw webpagina accounts in de ingebouwde RoboForm Browser.
Multi stap Logins: gebruik de "Matching Passcards" knop in de ingebouwde browser.
AutoSave Logins in ingebouwde RoboForm browser, ook handmatig.
Bewaar en Bekijk uw Logins, identiteiten en Safenotes.
Bewerk uw Logins en Safenotes, Identiteiten komt binnenkort.
Synchroniseer tussen uw RoboForm Everywhere Account en RoboForm op uw apparaat.
Landscape en Portret View.
Vul formulieren in vanuit de identiteiten in RoboForm.
Kopieer het wachtwoord van RoboForm en plak het in een andere app.
Wachtwoord Generator.
Hoe te gebruiken
Gebruik Roboform op de dekstop (Windows of Mac) om Logins, Identiteiten, Safenotes te creëren.
Synchroniseer RoboForm desktop met uw RoboForm Everywhere Account.
Tijdens het synchroniseren, worden alleen Logins gedownload die na de laatste synchronisatie zijn gewijzigd.
RoboForm Addon voor Firefox
De RoboForm Addon voor Firefox wordt geïnstalleerd door RoboForm voor Android.
Ga in RoboForm naar het Menu -> Settings, klik op Installeer Firefox plugin.
Daarna installeert RoboForm de addon in Firefox.
RoboForm Addon voor Dolphin
RoboForm Addon voor Dolphin is nu beschikbaar van Google Play (Android Market).
Installeer beide RoboForm voor Android apps en de RoboForm Addon voor Dolphin.
Daarna moet de Dolphin browser RoboForm herkennen.
Release Nieuws
RoboForm for Android ver 8.1.7 - Feb 02, 2018
Fixed issue with Accessibility Object appearing incorrectly.
Improved performance.
RoboForm for Android ver 8.1.6 - Jan 31, 2018
Fixed autologoff: native part logoff was broken, application locked on UI level only.
Fixed autosync process notifications when application is in background.
RoboForm for Android ver 8.1.5 - Jan 29, 2018
Autosync is now more responsive.
Improved syncing functionality between automatic and manual sync sessions.
Removed 'Show sync preview' option.
Modified user notification when sync fails.
Improved setup process.
Added Microsoft Edge for Android accessibility filling support.
Improved form filing for Parkmobile app to include email hint.
Improved form filling for Starbucks app.
Improved functionality with For Business policy settings.
Improved UI for sync conflict resolutions.
Fixed bugs reported by users.
RoboForm for Android ver 8.1.4 - Dec 06, 2017
Updated One Time Password dialog design.
Fixed user message when Google Authenticator method chosen.
Fixed One Time Password request on MP change.
Added stop sharing folder function.
Added sharing menu item to start page items context menu.
Fixed filling from Identity.
Fixed TLS connection creation for devices with Android 4.1.2 - 4.4.1.
Removed old FireFox Add-on support.
Added Manual link in About dialog.
Fixed Android O form filler.
Stability update.
RoboForm for Android ver 8.1.2 - Sep 21, 2017
Added Android O autofill service support.
Fixed shortcuts for Android O.
Updated Identity UI design.
Added credit card scan feature.
Fixed internal web browser filler.
Fixed application restoring process.
Added Korean localization.
Fixed Sync Diff screen issues.
Fixed Security Center issues.
Stability update.
RoboForm for Android ver 8.1.1 - Aug 15, 2017
Fixed unlocking RoboForm in external application filling mode.
Added cache master password policy enforcement on mobile device.
Stability update.
RoboForm for Android ver 8.1.0 - Aug 10, 2017
Added Spanish, Serbian and Swedish localizations.
Fixed filler issues.
Fixed enterprise groups issues.
Fixed autosave folder changing after file move.
Fixed bugs and crashes.
RoboForm for Android ver 8.0.9 - July 07, 2017
Fixed issue on remote Master Password change.
Updated Generate Password dialog.
Added password strength indicator.
Improved search algorithm.
Fixed bugs and crashes.
RoboForm for Android ver 8.0.8 - June 09, 2017
New AutoSave dialog.
Added showing logins in Matching Logins dialog.
Added Shared by Company icon to folder.
Added Emergency Access Control Center.
Added icon for limited access shared files.
Added searching app Logins by web URL.
Fixed bugs and crashes.
RoboForm for Android ver 8.0.5 - Apr 14, 2017
Added Security Center.
Fixed bugs and crashes.
RoboForm for Android ver 8.0.3 - Mar 03, 2017
Added ability to create Shared Folder.
Added ability to share files.
Stability update.
RoboForm for Android ver 8.0.2 - Feb 07, 2017
Added account upgrade tool.
Fixed UI issue on sync analysis screen.
Fixed RF browser User-Agent.
Added autoreload page after changing 'Request Desktop Web page' property value.
Improved search items algorithm.
Fixed FireFox add-on issues.
Stability update.
RoboForm for Android ver 8.0.1 - Dec 23, 2016
Fixed 'File not found' on Start Page.
Stability update.
RoboForm for Android ver 8.0.0 - Dec 22, 2016
Sync version number wtih desktop RoboForm which is now ver 8.
Add RoboForm ver 8 features, similar to desktop version.
v8 feature: Shared folders/files accepting/rejecting.
v8 feature: File sending/receiving using RF API.
v8 feature: Client policies support for Enterprise account.
v8 feature: Create OneFile accounts for ver 8.
Fixed icon loader.
New start page design for tablets.
Improved external application filling.
Fixed sync and One Time Password issues.
Fixed bugs.
RoboForm for Android ver 4.4.2 - Nov 23, 2016
Fixed sync setup issues.
Fixed Android 7 permissions issues.
Firefox Add-on moved to Mozill Add-on Gallery.
Improved stability.
RoboForm for Android ver 4.4.0 - Sept 09, 2016
Fixed One Time Password dialog display issue.
Added Create Support Ticket.
Added Change Account Password.
Fixed Login note field value editing issue.
Fixed infinite progress UI issue.
Fixed moving files with incorrect names.
Added fast scroll to all lists in navigator.
Redesigned Sync Changes/Conflicts window.
Fixed domain equivalence window menu style.
Fixed restoring list position for history fragment.
Fixed search issues related to case sensitivity.
Added fast search to Matching Logins Dialog.
Fixed UserId field value length issue.
OneFile: Added ability to change master password.
OneFile: Fixed Sync issue related to 'read only' error message.
Fixed UI issue sand bugs.
RoboForm for Android ver 4.3.9 - July 11, 2016
Added fingerprint authentication for Android M and Samsung SDK.
Added ability to sync with user specified RoboForm server.
Improved navigator list speed.
Stability update.
Preparations for RoboForm ver 8 release.
Fixed crashes and bugs found in ver 4.3.8.
Require minimal API 16, which means Android 4.1 and higher.
RoboForm for Android ver 4.3.6 - Apr 29, 2016
Fixed crash on start that may happen in ver 4.3.5.
Fixed errors in external applications filling.
Minor fixes and updates.
Updated OpenSSL to version 1.0.2g.
RoboForm for Android ver 4.3.4 - Apr 14, 2016
Improved filling into external applications.
Updated Firefox Add-on.
Minor fixes and updates.
RoboForm for Android ver 4.3.3 - Mar 15, 2016
Fixed software keyboard input into RF web-browser.
Fixed issues in FireFox Add-on.
Fixed issues in Dolphin Add-on .
Stability update.
RoboForm for Android ver 4.3.2 - Mar 01, 2016
Fixed default Lock App timeout value when display sleep timeout is set to Auto.
Improved Search function.
Fixed keyboard issue in browser.
Fixed app hiding on lock timeout exceeded.
Stability update.
RoboForm for Android ver 4.3.1 - Feb 22, 2016
Settings redesigned to improve clarity.
Added Security Wizard.
Fixed FireFox Add-On issues.
Fixed Dolphin Add-On issues.
Added x86 tablets support.
Stability update, bug fixes.
RoboForm for Android ver 4.3.0 - Jan 8, 2016
Added Lock Screen option.
Stability update, bug fixes.
RoboForm for Android ver 4.2.9 - Dec 21, 2015
Android 6 support added.
New option for Master Password caching (Encrypted File, Service, Memory).
By default Master Password is cached in encrypted file, as most apps do.
Caching Master Password in Memory or Service is very secure, but may require re-entry.
User Interface redesigned in Material style.
Fixed Firefox Add-on installation.
Dolphin Add-on is now a part of RoboForm app.
Added Auto-Sync on app start and upon local changes.
Stability update, bug fixes.
RoboForm for Android ver 4.2.8 - Aug 31, 2015
All dialogs redesigned to material style.
Fixed crashes, stability update.
RoboForm for Android ver 4.2.7 - Aug 20, 2015
Fixed Accessibility service that lets RF to get into apps that have password field.
Fixed Master Password storage, now MP is stored by RF foreground service.
Fixed RF logins import.
Fixed User interface issues.
Fixed PIN management problems.
Fixed import of RFQ files.
Fixed registration of new account issues.
Added going to RoboForm Web page on RF update or install.
Fixed double accept processing in dialogs.
Fixed multiple showings of the same dialog.
Fixed Set Master Password function.
Fixed MRU problems.
Fixed crashes, stability update.
RoboForm for Android ver 4.2.6 - Apr 17, 2015
Fixed missing long press copy in opened passcard.
Fixed check for password length on account creation.
Fixed error description on account creation.
Fixed crash on Matching Logins Dialog.
Fixed showed path in Matching Logins Dialog.
Removed Master Password request on RoboForm start if user doesn't have encrypted data.
Fixed RoboForm on low memory issues, including freeze after long non usage state.
Fixed crash on start related to showing several dialogs.
Added delete menu item to history item context menu.
Refactored file views.
Added ability to change text size in safenotes.
Added ability to create folder in save file or move file scenario.
Fixed passcard import.
FireFox plugin updated.
RoboForm for Android ver 4.2.4 - Apr 5, 2015
Fixed keyboard showing on Create and Edit of RoboForm items.
Fixed request for OTP on wrong previous attempt.
Fixed freeze on direction change in sync diff dialog.
Fixed errors on favicons download from web, improved download process.
Fixed GUI issues on long dialog windows.
Clear storing info about deleted data on "Clear Local Data".
Restart RF if native part is unloaded on low memory.
Added configure options for start page.
Fixed Start Page update on data set changed.
Hidden MS Windows app passcards on Start Page.
Fixed focus loss on address bar.
Fixed wrong login state error on AutoSave.
Fixed accessibility loop on fill discard.
Fixed locks in content provider on data set changed.
Fixed crash on start RF from TabChoiceActivity.
Fixed menu issues on TabChoiceActivity.
Fixed toolbar missing in passcard edit mode.
Forced keyboard hiding on close windows with editable views.
Hidden dual-password separator option.
Improved file list render process.
Hidden Application content in screenshot view shown in Task Manager.
Fixed crash on SavePasscardDialog.
Verified most used Activities for incorrect params.
Fixed open external URLs in RF browser.
Fixed cursor position save in identity editor.
Fixed position save for file lists.
Updated account creation and login form: added ability to login with email.
Start foreground service for master password keeping if Logoff timeout set to never.
Fixed GUI for Fill Form dialog.
RoboForm for Android ver 4.2.3 - Feb 16, 2015
Added re-encrypt wizard: Settings->Tools->Set Master Password
Fixed keyboard showing and hiding for dialogs
Fixed PIN code and file import issues
Fixed Firefox plugin: form submit came back
Fixed integration with Google Chrome via accessibility
Added integration with Opera browser via accessibility
Added Java code build date
RoboForm for Dolphin Addon ver 1.11 - Feb 16, 2015
Updated RoboForm user interface
Load icons directly from web site
RoboForm for Android ver 4.2.1 - Jan 29, 2015
Fixed crash on null icon load.
Disabled Google Chrome filling.
Fixed Identity Editor issues: instances removing and renaming, drop-down lists.
Fixed crash for several devices on editable fields.
Set default web title text to hint mode.
RoboForm for Android ver 4.2.0 - Jan 19, 2015
Matching Logins dialog: added ability to view selected Login and Show All Logins.
Load icons for Logins and Bookmarks from the Login's web site.
Updated web-browser user agent: added roboform info, updated engine version.
Updated Send function for RF files: RF copies item to external storage and encrypts it.
Added wizard for File Import, to import Logins sent by email.
Fixed timing issue in external app filling.
Fixed issues in Domain Equivalence.
Fixed error handling in RF Online Account creation.
Fixed context menu issues on Start Page.
Fixed UI issue on Start Page.
Fixed RF Online Account edit dialog.
Fixed Preview of Sync Results option.
Fixed several bugs and crashes.
RoboForm for Dolphin Addon ver 1.10 - Nov 28, 2014
Added getting site icons via Google.
Fixed password issue.
Updated RoboForm communication protocol.
Added Pin Code Dialog which works with RoboForm Pin Code.
RoboForm for Android ver 4.1.7 - Nov 19, 2014
Fixed crash on RoboForm open, after Update Cache, in ver 4.1.6.
Fixed crash on sync finish.
Fixed crash on using context menu in address bar.
Fixed wrong result from form filler.
Fixed send crash mail dialog hiding.
Fixed account creation problems.
Improved app performance after first update cache.
Added setting for RoboForm Online Account.
Version 4.1.5 - Oct 21, 2014
Fixed crash on sync finish.
Fixed crash on restore application state.
Fixed crash on short-time application pausing.
Added opening web stored PDF files in google online reader.
Version 4.1.4 - Oct 08, 2014
Fix Changing of Url when matching logins are used.
Addon compatibility - fixed wrong item paths.
Fixed Start Page sync if only Analyze is complete.
Fixed crashes on setState in file fragment due to low memory.
Stability update.
Version 4.1.3 - Sep 29, 2014
Added edit custom groups in identity.
Added ability to create contacts.
Added accessibility black list.
Added domain equivalence settings.
Improved start page for tablets: 3 parts like in desktop RoboForm.
Improved AutoSave algorithm: Now it works same as in desktop RF.
Fixed wording in settings and in first run wizard.
Fixed GUI issues in settings.
Stability update.
Version 4.1.2 - Aug 09, 2014
Fixed crash on list view in ver 4.1.1.
One Time Password support.
Hide URL bar in phone browser on page scroll down.
Improved file navigation and cache performance.
Switch to 3-digit version numbers.
Stability update.
Version 4.10 - July 28, 2014
Fixed sync error related to capital letters in UserID.
Fixed keyboard freeze on last screen of first run wizard.
Stability update.
Version 4.09 - July 24, 2014
Redo New User wizard, improve usability.
Added Identity Editor.
Fixed errors in Sync difference dialog and credentials saving.
Enforce single Master Password for all passcards.
Version 4.08 - Security Update - July 09, 2014
Do not store Master Password anywhere on device.
Store RF Everywhere account password in passcard, just like on desktop.
Store only hash of PIN, not the PIN itself.
Version 4.07 - June 24, 2014
Fixed menu button on tablets.
Fixed Identity fields missing.
Added basic authentication processing.
Version 4.06 - June 07, 2014
Fixed Dolphin and Firefox plugin interface.
Stability update.
Version 4.05 - June 03, 2014
Added RoboForm Accessibility service, used to fill forms in other apps.
Added Search in Safenote content.
Added Context menu in History fragment.
Added ability to create Home Screen shortcuts.
Added ability to switch between Light or Dark visual themes.
Added file upload in our browser.
Version 4.04 - Apr 06, 2014
Added browser history.
Fixed file delete from Downloads.
Changed Identities sort order in fill form dialog.
Added ability to rename and move files.
Fixed crashes.
Firefox add-on: Fixed compatibility with Firefox v28.
Firefox add-on: Fixed fill & submit option.
Version 4.03 - Mar 17, 2014
Change search string to search in Login names and in search engine.
Show matching Login names in search strings when user starts typing.
Add option to set Home Page.
Version 4.02 - Mar 04, 2014
Improved search function.
Fixed some crashes.
Version 4.00 - Feb 19, 2014
New Browser oriented User Interface design.
Added search agents.
Added fill forms from identities and contacts.
Fixed several crashes.
Version 3.10 - Dec 06, 2013
Make form filling work in Android 4.4 (broken in RF ver 3.09).
Fix getting around AppCode to see list of files.
Fixed crash on tab selection.
Optimized start process.
Fixed freeze after handling incorrect URL.
Redesigned generate password wizard.
Fixed issue with non ASCII symbols on creating account.
Clear all browser data on Clear History.
Added browser zoom.
Unified GUI for different Android versions.
Version 3.08 - Oct 30, 2013
Fixed falling back to first run wizard.
Added manage bookmarks for Android 3.x+.
Fixed crash after sync.
Fixed error on browser state recovery.
Added ability to remove downloaded files from device.
Version 3.07 - Oct 22, 2013
Added browser home page with list of most popular logins and bookmarks.
New phone browser design for Android 3.1+.
Added option to cache master password after closing app.
Added ability to show password in first run wizard.
Firefox plugin: Fixed 'missing RoboForm menu' issue.
Firefox plugin: Master password synchronization with RoboForm app.
Firefox plugin: Fixed issue with Fill&Submit after master password dialog.
*** Addon for Dolphin Ver 1.7 changes ***
Added Bookmarks.
Added All Logins.
Added 'RoboForm not installed' dialog.
Added Master password synchronization with RoboForm app.
Must use RoboForm app v3.06 or later.
Version 3.05 - Sept 12, 2013
Fixed several crashes.
Fixed wrong URL order in browser drop down list.
Added forgetting master password on force close.
Fixed ability to come back to file list after clear data.
Fixed password creation and edit issues.
Fixed incorrect setting of the first visible position in file list.
Fixed extra form filling.
Fixed downloads list save position error.
Allow removal of several elements from downloads list.
Version 3.04 - Aug 12, 2013
Fixed browser title drop down list issues.
Added Browser tabs limit to settings.
Updated file list navigation design.
File list now saves scroll position when user goes to browser view.
Fixed crash in storage select.
Version 3.03 - July 15, 2013
Fixed not displaying tab content when getting back to it.
Fixed web service crash.
Fixed install firefox plugin crash.
Added ability to choose next action after file download.
Added current tab load on start roboform browser.
Start in browser view with last session.
Fixed item view design.
Restored "show items" function.
Version 3.02 - July 10, 2013
Fixed not requesting master password after sleep.
Fixed browser tabs load state.
Fixed browser multi tab errors.
Improved password generator dialog design.
Fixed prompt for update FireFox addon error.
Fixed matching passcard errors.
FireFox: Added option to switch off hint.
Version 3.01 - June 12, 2013
Restore state of open tables after browser restarts.
Make progress bar better visible and higher contrast.
Added download list and simple download manager.
Fixed AutoSave sizes and prompts.
Improve address complete.
Fixed Matching Passcard dialog, provide better matches.
Added prompt to update Firefox addon.
FireFox: Fixed master password lost.
Firefox: Show folders for logins and bookmarks in lists
Version 3.00 - May 08, 2013
Added multiple browser tabs for Android version 3.x and later.
Added auto-complete for URL field that offers viable alternatives.
Simplified browser interface.
New GUI now works on Android 4.2 and higher.
Version 2.64 - Apr 16, 2013
Removed Clean Cache, Reload as Desktop dialogs, as not applicable in multitab.
Added confirmation for file removal.
Removed double confirmation after file save.
Added Dolphin addon installation button.
Pass RF Everywhere credentials to login form after account creation.
Added confirm of exit from safenote edit with unsaved changes.
Make file removal from search results work.
Firefox: Allow special characters in master password.
Version 2.63 - Apr 04, 2013
RoboForm now works in Firefox, to install:

in RoboForm go to Menu -> Settings, click Install Firefox plugin.
Fix disappearance of menus in some cases, on Android 3 and 4.
Fix dialogs shown when server is locked by another sync.
Fix dialog of initial setup, sync with the RF EW account.
Fix sync reminder on Android 4.
Refresh file list after file delete.
Improve file list code.
Fix bug in showing PIN code entry screen.
Fix not offering to save file when leaving it.
Fix saving files on devices that do not have SetModTime.
Fix bugs in cleaning previous RF Everywhere user profile when creating a new one.
Released RoboForm for Dolphin ver 1.6.
Version 2.61 - Feb 20, 2013
Fix RoboForm or RF for Dolphin asking to upgrade to new version when version is already current.
Version 2.60 - Jan 29, 2013
Fix folder caption in Flattened mode.
Fix context menus for Passcard and Safenote.
Fix cache recompute when deleting from search results.
Fix go up button.
Fix 'file read error' if user cancels save of safenote.
Fix losing position in file list on screen turn.
Fix not deleting passcard on saving if it already exists.
Fix crashes on MP entry + rotation of screen.
Rewrite saving of files, to fix many issues.
More smaller User Interface fixes.
Version 2.59 - Dec 27, 2012
Fix showing URL in passcards and bookmarks.
Fix hiding keyboard after Safenote editing.
Fix editing of empty safenotes.
Fix Sync reminder period.
First sync is is now 1-way to ensure integrity of acct.
Fix encryption of system passcards.
Fix crash in file list.
Fix 'Update Cache' in file list.
Fix showing Note field in Identity and Passcard.
AutoSave is now ON by default.
Fix saving a file on top of existing file.
Fix strings and window titles.
Add message about incorrect password entry.
Fix navigation after file deletion.
Check for name case conflicts when creating a new file.
Version 2.58 - Dec 11, 2012
Fix and improve AutoSave, esp. on Android 2.0.
Fix crash on log viewing.
Add option to remove all RoboForm data.
When searching, match only RoboForm files.
After file delete, get to next file, not to the start.
Tab style is now done in platform tradition.
When matching passcards, do not show Bookmarks.
Do not allow files with empty names.
Add exiting RF on double-click of Back.
Version 2.56 - Dec 04, 2012
Fixed empty folder not showing anything.
If wrong master password is entered, display warning.
Focus on master password entry field.
Added master password timeout.
Fixed flash on scroll.
Added folders.
Fixed crash on form fill.
Fixed form filler.
*** Dolphin Addon Ver 1.2 ***
Removed All tab, now accessible from menu.
Concatenated Contacts and Identities.
Improved icon and styles.
Added support for folder/alphabetical view.
Fixed form filler.
Removed odd setting 'Show system bookmarks'.
Added password generator with options.
Forced update cache for updates from 2.53 or early versions (changed cache format).
Fixed crashes in file list view.
Must have RoboForm ver 2.56 or later.
Version 2.55 - Nov 12, 2012
Fixed crash in FileList.
Fixed sync and log icons for android 4.0.3 and newer.
Fixed animation on tab change in file list.
Fixed edit for multiline notes in passcards.
Added password generator in browser.
Added ability to create note field in passcards.
Added support for dolphin browser addon.
Version 2.54 - Oct 29, 2012
Fixed file list crashes.
Bookmarks and passcards now Login on click, Edit on long click.
Added option to choose tap action for passcards.
Added field 'note' to Save Passcard dialog.
Request master password before GoTo action.
Default actions for search results are now the same as in the filelist.
Version 2.53 - Oct 23, 2012
Default action for file tap is now 'login', edit and other actions are done on long tap.
Fixed slow file scrolling.
Field 'note' in identity is now multiline.
Fixed file list not refreshed after file removal.
Fixed 'back' key not blocked when request to the new account create in action.
Fixed sync list position restore after item edit.
Version 2.52 - Oct 11, 2012
Fixed sync dialog, now show right info.
Fixed screen rotation on passcard edit.
Fixed target field edit.
Fixed passcard save on edit.
Fixed device sleep on account registration.
Fixed AppCode not asked after sleep.
Fixed lost account password.
Removed State Sync from sync details.
Fixed crash on file list.
Fixed page reloading on device rotation at Android 4.x.
Added Favicon save.
Fixed XSS toast showing on every page.
Fixed crash on log view.
Version 2.51 - Sept 26, 2012
Fixed lost cursor and focus indication in the wizard and create account form.
Fixed cursor navigation for devices with HW keys.
Fixed UserId filter, now it accepts all symbols.
Encrypts all stored passwords: Master, Account, PinCode.
Fixed all passwords must be hidden after wakeup.
Fixed sync crashes.
Fixed crash on cache update.
Updated Form Filler intellect.
Version 2.50 - Sept 10, 2012
Fixed crashes on passcard opening.
Removed confusing menu items from browser.
Version 2.49 - Sept 06, 2012
Added RF Everywhere account creation.
Fixed login button in the wizard.
Added encryption of RF EW password.
Fixed UserId allowed characters.
Added fast scrolling to the SafeNotes.
Fixed master password logoff on device sleep.
Fixed 'WA' state of Australia.
Added ability to change file direction in sync.
Fixed crash in filtered files view.
Fixed log view.
Fixed clipboard errors.
Version 2.48 - August 08, 2012
Fixed screen rotation crash on Update Cache.
Fixed crashes on File List View.
Fixed logs not attached on some devices.
Fixed crash on sync.
Version 2.47 - August 01, 2012
Added ability to delete files
Increased speed of cache update
Fixed screen rotation crash on Analyze
Added ability to create Safenotes
Fixed Subject line for messages
Changed conflict resolution screen
Fixed lock file identifier
Form filler fixes
Version 2.45 - July 19, 2012
Now users can copy/paste from/to field values
Fixed rotation issue in passcard view
Fixed menus for 3.x and 4.x Android platforms
Fixed reporting not executed on some devices
Fixed crash when reading big identity (over 500 fields)
Fixed log file viewer crash
Version 2.43 - July 02, 2012
Fixed logins AutoSave for multi-frame sites.
Fixed case sensitivity on file name check when saving
Fixed passcards fields names display
Fixed sync log submit for Android 3.x and 4.x
Fixed site login for 123.com
Removed AutoComplete from URL enter string
Added change-log dialog
Colorized toasts
Fixed sync on file name case change
Version 2.42 - June 26, 2012
Ability to save login forms from multi-frame sites.
Corrected multi-frame sites form filling.
Fixed form filler messages, to show correct final result.
Fixed favicons size for devices with extra high DPI.
Fixed RF Everywhere account unlock after sync complete.
Fixed some fields corruption on passcard edit.
Fixed icons for conflict resolution buttons.
Fixed direction icons on syncing files.
Added Widget to view and send sync logs.
Fixed first time wizard message.
Version 2.41 - June 25, 2012
Fixed multi-framed sites form filling (Dishmail).
Fixed Logins autosaver not launches.
Fixed passcard editing on Android 4.x versions.
Fixed re-synchronization crash.
Fixed icons for deleted files in sync analyze screen.
Now passcard field names are more readable.
Show non-default/ignored fields values.
Fixed log files uploading.
Version 2.40 - June 4, 2012
Fixed many form filler issues.
Fixed sync may delete state file, if not synced for long time.
Fixed spurious conflicts that may happen on sync.
Version 2.39 - Feb 25, 2012
Fixed Safenote edit. Now text wraps.
Fixed crash on sync error.
Fixed crash on browser exit.
Fixed form fill from passcards containing apostrophe in values or note.
Version 2.37 - Jan 16, 2012
Fixed form filler.
New sync algorithm.
Version 2.36 - Jan 12, 2012
Fixed save forms to passcards.
Fixed form filler for schwab, godaddy, etc.
Version 2.35
Added Passcard Editor.
Fixed compatibility with old format RoboForm files.
Added fill from Identity (browser menu->Split Screen, select identity, perform fill or fill and submit).
Version 2.33
SafeNote editor implemented.
Ability to e-mail RoboForm files.
Fixed save forms for Fidelity.
Logins view now have 'show fields' item, to show all fields.
Ability to open external safenotes (received by e-mail, etc).
Version 2.32
Fixed crash on search.
Fixed installer.
Form filler fixes.
Version 2.31
Added Save Passcard.
Added two-way sync mode.
Added Forms AutoSave. It must be enabled in settings, as not everybody needs it.
Moved 'Close Browser' menu item to the top level.
Fixed master password timeout.
Fixed 1.x compatibility.
Fixed permissions for some 3.x devices.
Fixed Samsung word splitter bug (Split UserID).
Fixed after sleep crash in Split Screen mode.
Fixed wrong matching list.
Fix form filling.
Version 2.25
Fixed resource leak.
Fixed menu icon set for Android 3.x.
Version 2.23
Fixed browser crash on 3.x devices.
Fixed storage recognition on 3.x devices.
Added option to select from which screen Roboform must start, Web Browser or FileManager.
Version 2.22
Added split-screen to browser. Easy copy/paste from identities and passcards to the web-forms. Available from browser menu (Menu/Show items).
Fixed form filler issues.
Version 2.18
Fixed stall on cache update.
Fixed login from passcard issue.
Protect from crashes after interrupted 'update cache' process.
Version 2.16
Speed up after-sync update of database.
Reduced memory usage.
Removed unneeded questions on first time sync.
Fixed issues with root certificate.
Version 2.15
Added hiding of address line on browser.
Fixed zooming.
Added per passcard selection: desktop or mobile browser.
Fixed sync files with extensions in different case.
Version 2.14
Fixed rotation bugs.
Increased file list speed.
Fixed crash on decoding some rare passcards.
Version 2.13
Fixed crashes.
Fixed wrong behavior of application on some cases.
Added warning for Update cache on settings screen.
Version 2.11
Fixed Crash on update from early versions.
Fixed Double Password issues.
Fixed Search progress bar, clean history issues.
Update cache now performing only if sync is actually started.
Version 2.10
Added progress for cache update (fixes black screen).
Increased speed on file list.
Fixed some crashes.
More changes to come in speeding up dept.
Version 2.9
Rewritten caching engine, to speed things up.
Fixed compatibility with old android versions issues.
Fixed submit error on form filler.
Fixed rotation bug on safenotes.
Added update file cache button in settings.
Fixed field names in identity and contact view.
Version 2.8
Fixed all known crashes.
Fix form filler issues.
Version 2.7
'Show system bookmarks' now works as planned.
Fixed title size.
Added favicon support.
Added 'tabbed view' for file list.
Added 'Double-tap' zooming in browser.
Added 'Submit' checkbox in matching passcards dialog.
Fixed sync errors with state changed or lock found.
Fixed reaction to loss of RF data folder.
Version 2.6
Fixed 'Note' filed in all files.
Fixed Crash on open bad passcards.
Added support for dual password passcards.
Fixed 'Desktop' browser asking from menu actions in browser.
Fixed form filling.
Fixed crashes on browser exit.
Fixed matching passcards.
Fixed Setting AppCode option.
Fixed Disabling keys for AppCode view.
Added checkbox for showing/hiding passwords inside passcards.
Fixed crashes on 'empty' files.
Fixed screen rotations.
Fixed support of different screen sizes.
'Clean Cache on browser close' option is now disabled by default.
Many GUI fixes.
Version 2.5.2
Fixed 'error 22'.
Fixed Master Password timeout settings.
Fixed crash on empty and protected safenote open.
Fixed crash on identity open.
Selecting of matching item now only fills form, does not submit.
Fixed AppCode '0' key.
Do not show blocking passcards.
Version 2.5
Add Browser clean on exit (remove cache, cookies, etc).
Fix crash in: Sync, go back, Sync again.
Fix filtering system counting.
Remove exit buttons.
Add AppCode keyboard for Android 1.5.
Fix Search dialog strings and buttons.
Fix Web View icons and button behavior.
Remove 'File List' menu items.
Fix 'Back' key navigation.
Add crash catching and emailing to developer.
Version 2.4
Added PIN code.
Fixed stop/reload buttons on webview.
Fixed big safenotes issues.
Version 2.2
Fixed crash on Android 1.5 and others
Fixed scroll on Safenotes
Added ability to migrate application to the SD Card or to internal phone memory.
Fixed form-filling on some sites.
Added response if site is changed and roboform can't fill form on it.
Version 2.1
Toon MEER Nieuws >>
Vaak gestelde vragen
V: Waarom wordt mijn RoboForm Everywhere Account niet geaccepteerd bij een poging om in te loggen?
A: U moet de gebruikersnaam en het wachtwoord dat u met RoboForm Everywhere gebruikt invoeren, of als u nog geen account hebt, moet u een nieuw RF Everywhere account maken en de instructies volgen over hoe u uw PC-versie van RoboForm synchroniseert met RoboForm Everywhere.
V: Hoe kan ik formulieren invullen vanuit mijn identiteit?
A: Momenteel vult RoboForm voor Android alleen in vanaf Logins, maar we zijn wel van plan om een ​​dergelijke functionaliteit in een toekomstige release op te nemen.
V: Kan ik Passcards / Identiteiten / Safenotes toevoegen of bestaande bewerken?
A: Helaas is op dit moment de RoboForm voor Android app gewoon een 'lezer' van uw gegevensbestanden, evenals het invullen van Logins. We zijn wel van plan om een ​​dergelijke functionaliteit in de toekomst toe te voegen.
V: RoboForm Bookmarklet voor Android werkt niet. Wat moet ik doen?
A: RoboForm Bookmarklet voor Android was een 'proof of concept' en het heeft zijn doel gediend.
Een volledige RoboForm app voor Android is uitgebracht en het vervangt de RF Bookmarklet voor Android.