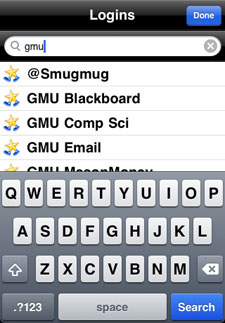 RoboForm for iPhone / iPod / iPad
RoboForm For iPhone / iPod / iPad
Version 2.4.1
Siber Systems is proud to release its RoboForm password manager to the iTunes App Store. This is a Free App that is available for all RoboForm Everywhere users. You can simply click the image below to open iTunes' App Store listing for RoboForm.

Version News
Ver 2.4.1 - Apr 04, 2013
Fix crash on PIN entry in some devices.
Popup fewer message boxes when no internet connection is available.
Fix autosave popping after filling from matching passcard.
Better Identities view: split it into groups like in big RoboForm.
Add big buttons for Login, Goto, Email in Passcard view.
Fix fill from Identity when non-default instances are used.
Ver 2.3.9 - Feb 27, 2013
Fix horizontal layout on iPad.
Add option for default action of passcard.
Implement post-update page.
Remove 'Save Unprotected' option. All Logins and Bookmarks are saved protected.
Add Delete button to Login in Edit mode, similar to the buttons used in Contacts.
Add Delete option to the Logins list using the standard iOS delete sequence.
Fix option that determines what to show on app start, login list/or browser.
Fix App crash on start when < 2.0 version was previously installed.
Ver 2.3.6 - Jan 31, 2013
Implement Passcard Editor.
Add New RoboForm Everywhere account creation dialog.
On install perform the same master password processing as in desktop RoboForm.
Implement RoboForm Start Page.
Login when passcard is clicked, Edit passcard with click on the arrow.
Improve performance and speed, by improving cache.
A number of bugs fixed.
Add iPhone 5 and iOS 6.0 support.
Ver 2.2.8 - July 25, 2012
New: Tabs for iPad and iPhone browsers.
Fix Filler clicks submit even if nothing is filled.
Fix Browser fails to show sites with invalid certificates.
Make address bar be scrollable, together with browser page.
Ver 2.2.7 - July 02, 2012
Show fields and field names in 'summary' format.
New: auto-save logins, turned off by default.
New: Safenote editor.
New: ask user to rate app after using 14 days.
New: show logins and bookmarks site icons.
Fix: Do not forget normal mode navigation position on switch to browser.
Fix: iPhone navigation bar height in landscape mode.
Fix: Remove RFO login/password check, fixes sync problems.
Fix: Fix rare crashes on sync complete.
Fix: passcards index (1st letter) disappears on navigate.
Ver 2.2.6 - May 31, 2012
Fix auto-logoff timer.
Add Logoff button.
Request Master Password in-place.
Add 'Fill Non-Empty Fields' option to form fill form passcards and identities.
Add progress indicator to address bar in browser.
Fix incorrect layout when started in horizontal mode.
iPhone: add flip effect on change main view.
Fix special characters in RF Everywhere password.
Move stop/refresh buttons to the address bar.
Ver 2.2.5 - April 25, 2012
Fix special chars in RF Everywhere password not recognized.
Change user agent to be MacOS desktop Safari, so that passcards work.
Filling from Matching Passcards: fill only, perform no submit.
Fix Folder that contains only safenotes shows nothing.
Fix form filling on several web sites, related to JS and user agent.
Ver 2.2.4
Passcards: add "Send by Mail" action.
Fix Sync gets stuck at 25%.
New in v2.2.1 - April 2012
Major new release of RoboForm for iOS, new internals.
Form Filling from Identities has been added.
New in v2.0.2 - Mar 2011
Fixed issue with 'freezing' on the PIN Entry
Fixed issue with unresponsive toolbar button in some states
Fixed issue with folders and files that contain non-latin characters
New in v2.0
Native iPad support! Including a built in browser and toolbar button.
iOS 4 Multitasking support.
iPhone 4 Retina display graphics.
Speed enhancements for the method of passcard caching.
New in v1.2
Added "Matching Passcards" functionality. Select the "Matching Passcards" button from the browser toolbar as you do on the PC version of RoboForm, and Fill Forms or Fill & Submit on the current page, depending on the option selected in "Settings > Web Browser".
Search in Logins/Identities/Safenotes views is now recursive.
Filenames with international characters are now synchronized correctly.
Error explanations for data files encrypted with "RC6" method.
Special characters in Filenames, such as "+" are now working properly.
New, more intuitive Copy/Paste implementation that mimics other Apple iPhone Apps.
Settings have been removed from the global "iPhone Settings App" as a security precaution.
Added "Change PIN", it can be found in "Settings > PIN Entry".
Added "PIN Entry Attempts" option, which will allow the App to have a certain number of Entry attempts before locking out the user for a certain period of time.
Moved the "Forget Master Password" into the Settings tab from the Sync tab.
Added "Change Account / Password" button which allows to login to a new RF Everywhere account, with the added ability to simply update the used password for the RF Everywhere account. This no longer requires the App to restart after changing.
Added "About" section with version number and added support links
Show More News >>
Features
View your Logins, Identities, and Safenotes.
Perform 1-Click Logins using the "Login" button while viewing a RoboForm Login.
Multi-step Logins: use "Matching Passcards" functionality in the built-in browser.
Synchronize between your RoboForm Everywhere Account and the RoboForm on your device.
PIN Entry - Added PIN Code for the Application Itself, required to get into RoboForm.
AutoLogoff - defaults to 5 minutes since most recent use.
Manual Logoff - "Forget Master Password" button under the "Settings > Security" view.
File Search - the ability to search recursively through the file lists.
Account Switching - "Change Account / Password" button on the "Settings > Account" view which will allow you change between accounts as well as change your account details.
How to Use
Use Roboform on dekstop (Windows or Mac) to create Logins, Identities, Safenotes.
Synchronize RoboForm on desktop with your RoboForm Everywhere Account.
RF for iPhone/iMac cannot Save or Edit Logins, so it will use Logins saved by RF on desktop.
When you start RoboForm on iPhone/iPad, it Syncs with this Roboform Everywhere account.
Only Logins that have changed since last Sync will be downloaded.
Frequently Asked Questions
Q: I forgot my PIN for RoboForm. What to do?
A: To reset the RoboForm PIN if you have forgotten it, you need to uninstall and reinstall the RoboForm for iPhone Application from the iTunes AppStore.
Q: How can I use RoboForm within Safari itself?
A: The RoboForm for iPhone App cannot be used with the "Safari" icon the iPhone home screen, which is due to how Apple controls "Apps" on the iPhone itself. No third party application can ever access the Safari App on the iPhone directly, it's not just us. The workaround we have is that we're allowed to "create" a browser that is the same as Safari, but within the RoboForm for iPhone Application. The way to access this is to select a Login and once it opens, click the "Login" button along the top. This will then complete a one click login to the website. Once you are done you can simply click the Exit button on the browser to return to RoboForm for iPhone.
Q: How do I view the entire value for a field thats "cut off" ?
A: We are working on a better way to show the entire contents of a field in the file viewers. For now what you can do is press and hold on the field and then choose "Copy" and then goto the Notepad app on the iPhone and paste the contents to view the entirety.
Q: Is my Data encrypted on the iPhone?
A: The RoboForm for iPhone Application downloads copies of your data files from RoboForm Everywhere, which are the exact same format and level of encryption as your PC version of RoboForm uses. So if your PC version of RoboForm uses a master password, so will your iPhone version.
Q: Why is my RoboForm Everywhere Account not being accepted when attempting to login?
A: You need to enter the username and password you use with RoboForm Everywhere, or if you have not yet created an account there, you need to do so at https://online.roboform.com/signup and follow the instructions on how to sync your PC version of RoboForm with RoboForm Everywhere at https://online.roboform.com/get-started
Q: Why does it say "There are no files on your account" when I try to sync?
A: In order to get RoboForm for iPhone to notice any changes, you first need to setup RoboForm on your PC to sync with RoboForm Everywhere, otherwise your RoboForm Everywhere account has no data files to download. Please follow the instructions on how to sync your PC version of RoboForm with RoboForm Everywhere at https://online.roboform.com/get-started
Q: How do I perform one click logins?
A: To use RoboForm for iPhone to fill login forms, you need to open it and choose a Login from the list, and then click the "Login" button to initiate the one-click login process. Unfortunately RoboForm for iPhone cannot integrate directly with Safari itself outside of the RoboForm for iPhone App, but we have an integrated copy of Safari which can be used.
Q: Can I add Passcards/Identities/Safenotes or edit existing ones?
A: Passcard editing and auto-save will be implemented soon.
Q: What is RoboForm and how do I use it on my iPhone or PC?
A: RoboForm saves your login (username, password, etc) information into a "Passcard" when working with the RoboForm Desktop version. This also has the ability to "Sync" to our RoboForm Everywhere server, which then can propagate your data files to your iPhone using the RoboForm for iPhone application. The RoboForm for iPhone Application does allow for One Click Logins, which means you would select an item in RoboForm for iPhone, and choose "Login" which would then open an embedded web browser within the application, navigate to the website and fill and submit the login for, completing a fully automated login process directly on the iPhone.
Requirements
Compatible with iPhone and iPod Touch.
Supports iPhone OS 3.0 or greater.
Account with RoboForm Everywhere.
Things to Note
There is currently no edit or update ability within the application. We plan to add it.
A RoboForm Everywhere Account is REQUIRED, so that you can sync RoboForm files between your desktop and iPhone / iPad.
There is currently no direct integration with Safari itself, due to limitations we must abide by. Instead there is an integrated browser that will open when selecting certain functions in the application, such as "Login" when viewing a RoboForm Login.
Are you experiencing issues with the RoboForm for iPhone application? Please contact our support team for help.