Password Generator
Be sure that all of your passwords are strong & unique with RoboForm's Password Generator feature.
What is the Password Generator feature?
As you probably know, when using RoboForm you no longer need to remember or type any of the passwords for sites that you log into. Therefore, you should have unique, secure passwords for each of those sites. However, coming up with secure passwords like these off the top of your head can be time consuming. Enter our Password Generator feature. With the simple click of a button, RoboForm will generate a secure, unique password for you with as many characters as you'd like.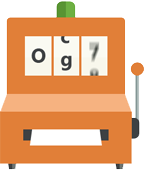 Using the Password Generator
The generated passwords are difficult to crack, but using this feature could not be any easier. Simply click on the "Generate" button and RoboForm will provide you with a strong and unique password. From there, you can use this password for a new login or to change a password for an existing login. You can even specify the number and types of characters for the generated password under "Advanced Settings".
Generate strong new passwords, save them with RoboForm, then log into websites automatically. It's that easy!

Your Internet experience will be easier AND more secure.

Can be uninstalled anytime