RoboForm for Firefox on Linux
RoboForm Lite Standalone Extension (recommended for Linux users)
This is a pure Firefox extension that does not require the regular RoboForm installed. This is a redo of RoboForm in JavaScript, so not all RoboForm functionality is available yet.
RoboForm Lite is completely free.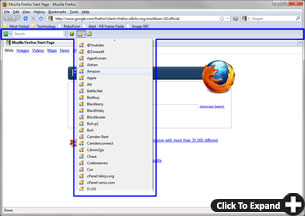 Features
Logins
All Features
Bookmarks
Delete, Rename
Identities
View, Delete, Fill, Rename
Safenotes
View, Delete, Rename
RoboForm Everywhere
Supported
RoboForm2Go USB
No
RoboForm Lite News, updated June 22, 2011.
Ver 2.1.0 New Features and Changes:
* Create/Edit/Save of the Bookmarks was added.
* Edit of local Identities was added.
* Manual Save operation of the current document fields was added.
* Reset/Clear fields commands were added.
* Disjoint Logins/Bookmarks in UI (can be joined together in Options).
* Disjoint Identity/Contact in UI (context menu disjointed also).
Ver 2.1.0 Fixes:
* Fix Contacts cannot be added to main toolbar as Active Id.
* Show only available groups for Contacts.
* Add Note field for identity groups.
* Alphabetical order of the local files fix for Linux.
* Many UI fixes in dialogs for Linux.
Ver 2.0.0 New Features and Changes:
* Create/Save/Edit support added for Safenotes.
* Acttive Identity in main toolbar is now taken automatically from root folder.
* You can also set Active Identity manually via context menu for individual identity.
* Form Fill dialog added. Form fill from different instances of the group implemented.
* Session Timeout info dialog was added. Show non modal dialog (5 seconds).
* Create new Folder, Safenote dialog was added.
* Password Generator dialog: added *Special symbols in password* feature.
* Login dialog. Add indicator of the cookie settings of the Firefox browser.
* Add submenu for folder object in context menu (Add folder, Add safenote).
* Toolbar: added *grey* images for disable state of the toolbar.
* Icons for context menu changed similar to full Roboform version 7.
* Localization: Japanese was added. Russian and English localizations corrected.
* New graphical design for many dialogs.