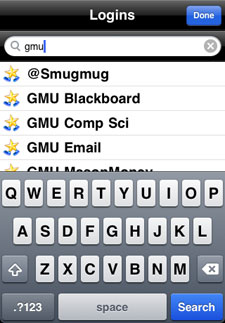 RoboForm voor iPhone / iPod / iPad
RoboForm voor iPhone / iPod / iPad
RoboForm Wachtwoord Manager is nu beschikbaar voor iOS apparaten.
Dit is een gratis App. Huidige versie is 8.5.5.
Installatie
Open de App Store op uw iOS apparaat.
Zoek naar RoboForm en installeer het.

RoboForm voor iOS werkt op iPhone, iPad, iPod, iOS versie >= 4.2.
Kenmerken
Automatisch inloggen in uw web accounts in de embedded RoboForm browser.
Multi-stap Logins: gebruik de "Matching Passcards" knop in de ingebouwde browser.
Bekijk en Bewerk uw Logins, identiteiten en Safenotes.
Auto opslaan van login-informatie voor nieuwe login formulieren.
Synchroniseren tussen de RoboForm Everywhere Account en de RoboForm op uw apparaat.
Formulieren invullen van Identiteiten.
Wachtwoord Generator (wordt spoedig toegevoegd).
Automatisch uitloggen en Handmatig afmelden (cache opschonen hoofdwachtwoord)
Zoek Logins uit Login naam lijst.
Hoe te gebruiken
Gebruik Roboform op een dekstop (Windows of Mac) om Logins, Identiteiten en Safenotes te maken
Synchroniseer RoboForm op een desktop met uw RoboForm Everywhere Account.
RF voor iPhone/iMac kan nu logins bewaren en bewerken.
Als u Logins synchroniseert worden alleen Logins gedownload die sinds de vorige synchronisatie zijn gewijzigd.
Versie Nieuws
Ver 8.5.5 - Jan 11, 2018
Ver 8.5.4 - Dec 31, 2017
Improved Sync Conflict resolver.
Fixed Face ID setup from Preferences.
Fixed a number of bugs and crashes.
Ver 8.5.3 - Dec 28, 2017
Added Share and Send commands to item context menu on Start page.
Added Spanish and Russian localizations.
Added drag'n'drop support for Logins and Identities fields (for iPad multitasking modes).
Improved Face ID support for iPhone X.
Fixed a number of bugs and crashes.
Ver 8.5.2 - Nov 08, 2017
Fixed fill from identity on iPad does not work if sensitive fields found.
Fixed several crashes on iOS 11.2.
Face ID integration is finally working.
Ver 8.5.2 - Nov 08, 2017
Fixed fill from identity on iPad does not work if sensitive fields found.
Fixed several crashes on iOS 11.2.
Face ID integration is finally working.
Ver 8.5.1 - Nov 03, 2017
Added ability to share a folder.
Added ability to enter OTP from Google Authenticator.
Fixed a number of bugs and crashes.
Ver 8.5.0 - Oct 17, 2017
Added RoboForm application shortcut items menu.
Added RoboForm Today widget.
Improved form filler quality.
Increased max number of elements on Start page.
Improved credit cards scanner.
Set minimum supported iOS version to iOS 9.
Fixed a number of bugs and crashes.
Ver 8.4.2 - Aug 24, 2017
Improved form filler quality for sites such as godaddy.com.
Display filling results using popup notification.
Updated start page design.
Add ability to place any item on start page.
Fixed a number of bugs and crashes.
Ver 8.4.0 - July 25, 2017
Identity: add ability to scan credit card.
Search: improved fuzzy search algorithm and highlight search query in results.
Fill forms: display last 4 digits after credit card name, to easily identify card.
Miscellaneous bug and crash fixes.
Ver 8.3.0 - June 12, 2017
Added Emergency Access.
Enterprise: allow disabling Emergency Access by policy.
Use SAMKeychain as new keychain wrapper, as old keychain wrapper crashes sometimes.
Miscellaneous bug and crash fixes.
Ver 8.2.2 - Apr 05, 2017
Ver 8.2.1 - Apr 02, 2017
Bug fixes and speed improvements.
Download site icons from RFO proxy.
Ver 8.2.0 - Mar 20, 2017
Added Security center.
Set Bing as default search engine.
Fix misc crashes and bugs.
Ver 8.1.0 - Mar 07, 2017
Added RoboForm 7 to RoboForm 8 account conversion.
Sharing center: Share whole Folder and individual Files.
Bug fixes and performance improvements.
Ver 8.0.1 - Jan 22, 2017
Fix several bugs and crashes.
Ver 8.0.0 - Dec 22, 2016
Make version number to be the same as new ver 8 released on desktops.
Sync: show errors after sync to allow non-error data to be synced.
Enterprise: add support for RoboForm Policies.
Improved performance for large accounts.
Optimise memory usage for many opened tabs.
Browser: fix 3D touch gesture conflicts with long tap gesture for links.
Fix several bugs and crashes.
Ver 4.5.1 - Oct 17, 2016
Fix several bugs and crashes.
Ver 4.5.0 - Sept 14, 2016
Set minimum supported iOS version to iOS 8.
Pull-to-refresh to start Sync.
Identity: edit credit card numbers with formatting.
Fix several bugs and crashes.
Ver 4.4.1 - Aug 30, 2016
Make Sync work on IP v6 connections too.
Update User-Agent string to make websites fill properly.
Fix iPad crash on attempting to open more than 10 tabs with web browsers.
Fix several bugs and crashes.
Ver 4.4.0 - July 29, 2016
Sync with user data format, provided by RoboForm ver 8.
Fix several bugs and crashes.
Ver 4.3.1 - June 01, 2016
Fix One Time Password not working.
Fix several UI bugs and crashes.
Ver 4.3.0 - May 24, 2016
Add support for 3D Touch.
Add support for iPad multitasking modes.
Implement CoreSpotlight Search: all Logins can be searched via iOS system search.
Add auto sync, On by default.
Browser: use our own context menu instead of default web-view menu.
Update user agent string for desktop mode.
Fix several UI bugs and crashes.
Ver 4.2.0 - Feb 04, 2016
New: Filling Logins in Google Chrome.
New: Filling Logins in Firefox.
New: Filling Logins in Applications (where available).
New: Filling from Identity in Safari.
New: Allow filling from non-matching Logins.
New: Browser improvements: history, search on webpage.
Allow sync with accounts converted to one-file RF ver 8 format.
Browser: history added.
Browser: limit to 10 tabs.
Browser: Search words on webpage.
Edit passcard in fullscreen.
Google Chrome extension.
Safari Extension: fill from identity/contact.
All Extensions: show/fill non-matching logins.
Chrome Extension: fill Logins in Firefox.
Chrome Extension: fill Logins in Applications using 1Password button.
Remove Dual Password from preferences.
Fixed a number of bugs.
Ver 4.1.1 - Dec 04, 2015
Improved Pin code security.
Fix TouchID does not requested after it was cancelled and RF ent into background.
Allow connected Bluetooth keyboards to be used when entering PIN code.
Prevent AutoLogoff while typing text.
Fix Basic Auth issues on iOS 7.
Fix Fuzzy search issues.
Fix Identity editing issues.
Fix Adding bookmark to start page after editing its Name, GotoURL or MatchURL.
Fix Sync start page option does not work.
Fix Logins from non-root folder cannot not be sent by mail.
Fix a number of crashes.
Ver 4.1.0 - Oct 15, 2015
Now RF works with iPhone 6, iPhone 6S natively.
Improved authorization modes, PIN must be re-created:
Unlock Mode option: MasterPassword, PinCode, TouchId and No Auth.
New Pin controller, without system keyboard.
Better folders support: add bility to manage folders.
Show empty folders.
Multiple bug fixes.
Ver 4.0.0 - May 18, 2015
Add iPhone 6 and 6 Plus compatibility.
Support TouchID, it may replace PIN as means to cache Master Password.
iOS Safari Extension: RF now can fill forms from Logins in Safari.
Click here to learn how to attach RoboForm to Safari.
Require Master Password (or PIN/Touch as its replacement) to open RF.
A lot of bug fixes and performance improvements.
Ver 3.3.7 - Oct 15, 2014
Fix Sync reminder disappears after restart.
Fix Crash on delete of last login in folder.
Home Screen Adapter: added support for iOS 8.
Fix flickering on displaying iPhone tabs.
Many fixes for smaller bugs and crashes.
Ver 3.3.5 - Sept 5, 2014
Fix PIN is not requested after sending app to background with OTP request displayed.
Display OTP request with plain input (not ***).
Fix Basic Auth do not select matching login in some cases.
Fix Sync Reminder preference issues.
Fix crash on rename and delete passcard from passcard view.
Fix iOS8 display and UI issues.
Fix initial sync hangs after updating cache.
Use Crashlytics for catching crashes in public releases.
Ver 3.3.3 - Aug 31, 2014
Add One Time Password support.
Sync: Add reminder to sync every N hours.
Sync: add basic conflict resolver.
Create RFO account using new RF server.
New scale for Master Password timeout.
New scale for PIN timeout.
Fix crashes related to iTunesConnect.
Autosave: make 'Never for this site' button visible on iPhone.
Fix Dual Password does not work with '"Open logins in browser' off.
Many smaller User Intrerface fixes.
Ver 3.3.1 - Aug 05, 2014
Fix crash on start after some updates.
Fix navigation layout issue with active search field.
Ver 3.3.0 - July 23, 2014
Import/Open Logins (passcards) from outside app.
Open links with target=_blank in new tab.
Add dual password support.
Add ability to download files.
Autosave: add "Never for this site" button to save blocking passcards.
Preferences: add Search suggestions toggle switch.
Preferences: add ability to manage blocking passcards.
Preferences: add Clear Cookies button.
Fixed many bugs.
Ver 3.2.1 - May 28, 2014
Urgent: Fix RoboForm does not ask for Master Password when it is not cached.
Change home screen icons shape to round, per Apple guidelines.
Fix Printing does not work at all.
Fix Autosave does not update password.
Fix Logins/Identity editor delete button is displayed partially.
Identity Editor: add ability to select country.
Identity Editor: add flags to countries.
Identity Editor: add clear buttons for fields.
Identity Editor: add empty values for selectable fields.
Ver 3.2.0 - May 27, 2014
Identity editor: Fully reworked.
Home Screen: add long tap menu for items.
Home Screen: show large Apple Touch icons when available.
Preferences: Add 'Show Login Details' option.
Preferences: Add 'Open Login in Browser' option.
Login Editor: do not hide passwords while editing.
Identities button: show Main identities + All Identities button + All Contacts button.
Fix scrolling of long text in note field of Logins and in Safenotes.
Fix Basic Authentication fill/save does not work.
Fix Standalone Login has no edit button.
Fix Olf value of Login field is displayed editing is finished.
Make Safenote text accessible (but not editable) in view mode.
iPad: remove unrelated browser men utems from toolbar for Home Screen.
Ver 3.1.0 - Apr 30, 2014
Add Password Generator.
Update OpenSSL client to 1.0.1g.
Build login cache in background thread, to not freeze UI after sync.
Avoid device sleep while syncing logins.
Fix folder paths were truncated when moving passcard.
Fix statistics reporting.
Reset pin timeout on disabling pin code.
Preferences: use custom keyboard with picker for selectable values.
Change search string to 'Search Logins or Web'.
Ver 3.0.0 - Apr 14, 2014
New Use Interface design for iOS 7.
Browser-centric concept in new UI design.
Updated Login (Passcard) Editor.
Update SafeNote Editor.
Add Home Screen with most popular Logins.
Add ability to disable PIN entry.
Search: display RoboForm Login matches before Search Engine matches.
Matching Logins: add 'Submit after Fill' option.
Add 64-bit support (Arm64 architecture).
Fix Save bookmark without cached MP saves unreadable Login.
Minimal requirement: iOS 6.0.
Ver 2.7.1 - Nov 12, 2013
Minimal OS requirement is now iOS 5.
Fix iOS 7 master password not accepted if user taps OK in password request.
Fix crash when using proxy server with auto configuration javascript file.
Fix crash on displaying passcard site icon with non-padded bitmap.
Fix update usage info for passcards on view, edit and login.
Fix checking of correct injection of rf-ios.js into web page.
Fix saving of 'Web Browser->Open Mobile Sites' setting.
Fix Save bookmark without cached Master Password saves unreadable passcard.
Ver 2.6.0 - July 19, 2013
Browser: Add http digest auth support.
Fix: fill up sync progress to 100% in case of successfull sync.
Fix: Preferences: "Web Browser->Open Mobile Sites" toggle switch, press "Home", bring up RoboForm: value must remain unchanged.
Fix: Crash on displaying passcard site icon with non-padded bitmap.
Fix: ask for creating pin on upgrade from ver 2.2.8.
Fix: crash after sync in case opened item was changed or deleted.
Fix: crash on deleting passcard from list.
Fix: rename passcard from passcard view.
Fix: text editor fields does not refresh if cancel pressed.
Ver 2.5.0 - June 02, 2013
Add Identities editor.
Add full screen view for Passcards.
Add ability to pin Passcard to home screen.
Passcard List: show creation commands if there are no items in folder.
iPad: Add option to start with an open sidebar.
Fix Rotation not work on iPad with iOS 5.
Fix Browser's address bar not resized on iPad with iOS 5.
Fix Passcard list not scrolling after search.
Add ability to cancel pin code change (cancel button or shake).
Ver 2.4.1 - Apr 04, 2013
Fix crash on PIN entry in some devices.
Popup fewer message boxes when no internet connection is available.
Fix autosave popping after filling from matching passcard.
Better Identities view: split it into groups like in big RoboForm.
Add big buttons for Login, Goto, Email in Passcard view.
Fix fill from Identity when non-default instances are used.
Ver 2.3.9 - Feb 27, 2013
Fix horizontal layout on iPad.
Add option for default action of passcard.
Implement post-update page.
Remove 'Save Unprotected' option. All Logins and Bookmarks are saved protected.
Add Delete button to Login in Edit mode, similar to the buttons used in Contacts.
Add Delete option to the Logins list using the standard iOS delete sequence.
Fix option that determines what to show on app start, login list/or browser.
Fix App crash on start when < 2.0 version was previously installed.
Ver 2.3.6 - Jan 31, 2013
Implement Passcard Editor.
Add New RoboForm Everywhere account creation dialog.
On install perform the same master password processing as in desktop RoboForm.
Implement RoboForm Start Page.
Login when passcard is clicked, Edit passcard with click on the arrow.
Improve performance and speed, by improving cache.
A number of bugs fixed.
Add iPhone 5 and iOS 6.0 support.
Ver 2.2.8 - July 25, 2012
New: Tabs for iPad and iPhone browsers.
Fix Filler clicks submit even if nothing is filled.
Fix Browser fails to show sites with invalid certificates.
Make address bar be scrollable, together with browser page.
Ver 2.2.7 - July 02, 2012
Show fields and field names in 'summary' format.
New: auto-save logins, turned off by default.
New: Safenote editor.
New: ask user to rate app after using 14 days.
New: show logins and bookmarks site icons.
Fix: Do not forget normal mode navigation position on switch to browser.
Fix: iPhone navigation bar height in landscape mode.
Fix: Remove RFO login/password check, fixes sync problems.
Fix: Fix rare crashes on sync complete.
Fix: passcards index (1st letter) disappears on navigate.
Ver 2.2.6 - May 31, 2012
Fix auto-logoff timer.
Add Logoff button.
Request Master Password in-place.
Add 'Fill Non-Empty Fields' option to form fill form passcards and identities.
Add progress indicator to address bar in browser.
Fix incorrect layout when started in horizontal mode.
iPhone: add flip effect on change main view.
Fix special characters in RF Everywhere password.
Move stop/refresh buttons to the address bar.
Ver 2.2.5 - April 25, 2012
Fix special chars in RF Everywhere password not recognized.
Change user agent to be MacOS desktop Safari, so that passcards work.
Filling from Matching Passcards: fill only, perform no submit.
Fix Folder that contains only safenotes shows nothing.
Fix form filling on several web sites, related to JS and user agent.
Ver 2.2.4
Passcards: add "Send by Mail" action.
Fix Sync gets stuck at 25%.
New in v2.2.1 - April 2012
Major new release of RoboForm for iOS, new internals.
Form Filling from Identities has been added.
New in v2.0.2 - Mar 2011
Fixed issue with 'freezing' on the PIN Entry
Fixed issue with unresponsive toolbar button in some states
Fixed issue with folders and files that contain non-latin characters
New in v2.0
Native iPad support! Including a built in browser and toolbar button.
iOS 4 Multitasking support.
iPhone 4 Retina display graphics.
Speed enhancements for the method of passcard caching.
New in v1.2
Added "Matching Passcards" functionality. Select the "Matching Passcards" button from the browser toolbar as you do on the PC version of RoboForm, and Fill Forms or Fill & Submit on the current page, depending on the option selected in "Settings > Web Browser".
Search in Logins/Identities/Safenotes views is now recursive.
Filenames with international characters are now synchronized correctly.
Error explanations for data files encrypted with "RC6" method.
Special characters in Filenames, such as "+" are now working properly.
New, more intuitive Copy/Paste implementation that mimics other Apple iPhone Apps.
Settings have been removed from the global "iPhone Settings App" as a security precaution.
Added "Change PIN", it can be found in "Settings > PIN Entry".
Added "PIN Entry Attempts" option, which will allow the App to have a certain number of Entry attempts before locking out the user for a certain period of time.
Moved the "Forget Master Password" into the Settings tab from the Sync tab.
Added "Change Account / Password" button which allows to login to a new RF Everywhere account, with the added ability to simply update the used password for the RF Everywhere account. This no longer requires the App to restart after changing.
Added "About" section with version number and added support links
Toon MEER Nieuws >>
Vaak gestelde vragen
V: Ik ben mijn PIN for RoboForm vergeten. Wat moet ik doen?
A: Om de RoboForm PIN te resetten als u deze bent vergeten, moet u RoboForm deïnstalleren en opnieuw installeren vanuit de iTunes AppStore.
V: Hoe kan ik RoboForm binnen Safari zelf gebruiken?
A: De RoboForm voor iPhone App kan niet worden gebruikt met het "Safari" icoon vanaf het iPhone startscherm, dat is te wijten aan hoe Apple regelt dat "apps" zich gedragen op de iPhone. Geen enkele derde partij applicatie heeft toegang tot de Safari App op de iPhone, niet alleen die van ons. De oplossing die we hebben is dat we een browser hebben gemaakt die hetzelfde is als Safari, maar binnen de RoboForm voor iPhone Applicatie. De manier om dit te openen is om een ​​login te selecteren en als die eenmaal wordt geopend, klikt u op de knop "Login" aan de bovenkant. Zodra u klaar bent kunt u gewoon op de knop Afsluiten klikken in de browser om terug te keren naar RoboForm voor de iPhone.
V: Hoe kan ik de volledige inhoud van een veld zien als het wordt 'afgebroken'?
A: We werken aan een betere manier om de gehele inhoud van een veld te tonen in de bestands viewer. Wat u nu kunt doen is het veld selecteren en kiezen voor "Kopiëren" en dan naar het Kladblok op de iPhone gaan en de inhoud plakken en het zo in zijn totaliteit bekijken.
V: Zijn mijn gegevens versleuteld op de iPhone?
A: De RoboForm iPhone App download een kopie van uw gegevens uit RoboForm Everywhere, die exact dezelfde versleuteling hebben als de pc-versie van RoboForm gebruikt. Dus als uw PC versie van RoboForm een hoofdwachtwoord gebruikt, dan doet uw iPhone-versie dat ook.
V: Waarom wordt mijn RoboForm Everywhere Account niet geaccepteerd als ik probeer in te loggen?
A: U moet de gebruikersnaam en het wachtwoord dat u met RoboForm Everywhere gebruikt invoeren, of als u daar nog geen account hebt, dan moet u dit doen op Everywhere registreren pagina en de instructies volgen hoe u uw PC versie van RoboForm synchroniseert met RoboForm Everywhere: Aan de slag
V: Hoe werkt een één klik login?
A: Om RoboForm voor de iPhone te gebruiken en login formulieren in te vullen, moet u om het te openen een tab geven op een Inlog uit de lijst. Helaas kan RoboForm voor de iPhone niet rechtstreeks worden geïntegreerd met Safari buiten de RoboForm iPhone App, maar we hebben een geïntegreerde versie van Safari die gebruikt kan worden.
V: Kan ik Passcards / Identiteiten / Safenotes toevoegen of wijzigen?
A: Het toevoegen en wijzigen van Passcards en Identiteiten en het automatisch opslaan is geïmplementeerd vanaf versie 2.5.0.