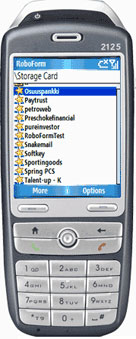 RoboForm for Windows Mobile
RoboForm for Windows Mobile
RoboForm for Windows Mobile allows you to store and view RoboForm Passcards, Identities and Safenotes on your Windows Mobile or Pocket PC or Windows CE device. Full-featured password generator is included.
You should use GoodSync, our file synchronization program, to synchronize RoboForm files between Windows Mobile device and the desktop.
Platforms Supported
Windows Mobile 6

Windows SmartPhone phones

Windows Mobile 5

Windows SmartPhone phones
Pocket PC Phone Edition
Pocket PC

Windows Mobile 2003 (Base or SE)

Windows SmartPhone phones
Pocket PC Phone Edition
Pocket PC

Pocket PC 2002
Pocket PC 2000
Detailed list of devices appears at the bottom of the page.
If RoboForm does not install on your phone, send us version info from "Main Menu. Settings. About". If it does not install on your Pocket PC, send us version info from "Start. Settings. System. About".
Install Unsigned Version -- Recommended
Start RoboForm for Pocket PC version 2.2.0 from RoboFormForPPC.exe.
It will ask whether to install RoboForm for Pocket PC.
Click Yes both on desktop and your device.
You can now start RoboForm on your device.
Install Signed Version
If the above unsigned version does not install (because some phones/providers do not like unsigned CABs) then use run the signed version 2.0.0 from RoboFormForPPC-signed.exe. This version may not have the latest fixes available in unsigned version.
Install on Vista
ActiveSync has been replaced with Windows Mobile Device Center on Windows Vista.
This is how to install RoboForm for Windows Mobile through Vista desktop:
Install Windows Mobile Device Center from Microsoft web site.
Connect your device and sync it once.
Start RoboForm for Pocket PC installer on Vista desktop.
New Synchronization Scheme in Version 2.0
Starting with ver 2.0 use GoodSync to sync RoboForm files between your phone and desktop.
Before version 2.0 RoboForm for Pocket PC had built-in synchronizer.
Advatanges
Built-in synchronizer had integration problems due to privileged nature of sync modules in Windows CE. GoodSync does not have these problems, as it uses WinCE RAPI file system visible through ActiveSync.
Built-in synchronizer was forced by ActiveSync to work only in fully automated mode, so user could never see changes before they are applied. GoodSync allows you to review changes before committing them.
Built-in synchronizer was limited by WinCE to syncing only two desktops to a device. GoodSync does not have this limitation, you can sync with any number of desktops.
How to Setup
Install GoodSync from GoodSync-Setup.exe.
Start GoodSync and create a new synchronization Job (initial New Job is created automatically).
Click left Browse button in GoodSync and select My RoboForm Data folder on your desktop.
Click right Browse button, click WinMobile in left navigator tab of the Browse dialog.
If your phone or Pocket PC is connected, list of phone folders will appear. Select My RoboForm Data folder.
Click Analyze to see the list of differences, Sync to reconcile these differences.
News
2.2.0: Bug Fixes.
2.0.0: Replace built-in synchronizer with GoodSync.
1.8.88: Added CAB installers for installation directly onto Windows Mobile.
1.8.88: Bug fixes.
1.8.40: Support Vista WMDC ver 6.1.
1.8.40: Improve dual password support.
1.8.31: Added support for Windows Vista.
1.8.10: Provide version with unsigned CAB too, some phones need it.
1.8.9: Sign the CAB, should install on more devices.
1.8.4: Add Password Generator to Windows Mobile version.
1.8.1: Allow both 1-way and 2-way syncing with Pocket PC.
1.8.0: Signed sync DLL, so that syncing works on Windows Mobile 5.
1.7.9: Added support for Windows Mobile 5 and several phones.
1.6.0: Allow syncing with flash cards on the device.
1.5.0: Add AES, BlowFish, RC6 encryption used in RoboForm 6.5.
1.3.0: Support for Windows Mobile 2003 OS.
1.2.0: Allow non-alphabet characters in passwords.
1.2.0: Support SH3 and ARM4 processors.
1.2.0: Cache Master Password and Logoff.
1.2.0: Improve processing of non-latin characters.
Features and Manual
Viewer Only, no Form Filler
RoboForm for Pocket PC faithfully reproduces RoboForm for desktop. However, you can only view RoboForm data on Pocket PC device, not edit it. Also RoboForm does not fill forms on Pocket PC, its primary function is to make portable Passcards, Safenotes and Identities that you accumulated on desktop.
Synchronization with Desktop
You should use GoodSync to synchronize RoboForm files between Windows Mobile device and the desktop. Select WinMobile file system in the Browse dialog, this represents your phone.
Navigator
Click Passcard (Star With Legs) icon in the bottom toolbar to see the list of Passcards and Bookmarks (saved passwords and URLs), or click Safenote (Note) button to see the list of Safenotes (encrypted text notes), or click Identity (Person) button to see the list of Identities and Contacts (address book entries). You can also select what to browse (Passcards, Safenotes, or Identities) in the upper right corner of the screen.
Note: SmartPhone version of RoboForm does not have toolbar with Passcards, Safenotes, Identities buttons.
Folders
Put related Passcards, Identities or Safenotes into a Folder on desktop and then browse folders on Pocket PC. Note that folder tree should be create on desktop and on Pocket PC you can only browse it. To get into the folder, tap the folder name. To one level up in the tree of folders, click the ".." item at the top. To get to the Home (Root) folder, click the Home icon. To open the file, tap the file name.
Password Protection and Encryption
All Passcards, Identities and Safenotes that are password-protected on desktop are encrypted by Master Password on Pocket PC and opening them on Pocket PC requires entering Master Password. So even if your Pocket PC is stolen, nobody can steal your RoboForm data from Pocket PC. Note that you must create Master Password on desktop and sync to make MP available on Pocket PC.
Protection Status Indicator
When inside Passcard, Safenote or Identity, password protection status of the file is shown by Lock icon in the lower part of the screen. If Lock is locked and Yellow then the file is password protected and you can determine the encryption method by clicking the Lock icon. If Lock is gray and unlocked then the file is not password protected.
Master Password Entered Indicator
If Yellow Key icon shown in file navigator is enabled, it means that you entered Master Password and that it is cached in Pocket PC memory. Click the Yellow Key icon to clear (uncache) the password from memory. This is the same as Logoff command in desktop RoboForm.
Mandatory Master Password
Click RoboForm icon select Options.If "Require Password to open all files" option is checked then you will be asked for Master Password every time you open RoboForm application, even if your passcards are not password-protected. By default RoboForm requests Master Password only when opening password-protected files.
Decryption Speed
AES decryption may be slow on Pocket PC, because it requires a lot of arithmetic operations. If you feel that opening AES-protected passcards takes too much time on your device, reprotect passcards on desktop with weaker and faster encryption such as 3DES, then sync to Pocket PC and passcards will open faster.
Password Generator
Click Lightning icon on RoboForm toolbar and RoboForm full-featured Password Generator will appear.
Available commands: Generate.
Available options: password length, character classes.
International Charsets
Both RoboForm on desktop and RoboForm on Pocket PC use UNICODE to store characters, so international characters will be correctly shown on Pocket PC.
Cost and How to Buy
Price
Starting with ver 2.0, RoboForm for Pocket PC is completely free.
GoodSync has both a Free and Pro version available.
Old Versions
Unsigned ver 1.8.80 with built-in synchronize: RoboFormForPPC-1-8-80.exe
Supported Devices (Long)
Windows Smartphones
Asus P305, Asus P525, Audiovox SMT5600, Audiovox PPC 6700, Cingular 2125, Compal Red E SC1100, Dopod 515, Dopod 557w, Dopod 565, Dopod 575, Dopod 585, Dopod 586w, HTC Touch Diamond, HTC Touch Pro, i-Mate Smartphone, i-Mate Smarthphone 2, i-Mate SP3, i-Mate SP3i, i-Mate SP5, i-Mate SP5m, i-Mate Smartflip, Krome Intellekt iQ700, Mitac Mio 8390, Mitac Mio 8860, Mitac Mio 8870, Motorola i930, Motorola Q, Motorola MPx200, Motorola MPx220, O2 XDA IQ, O2 XDA Orion, O2 Xda Phone, O2 Xda sp, O2 XDA XPhone, O2 XPhone, O2 XPhone II, O2 XPhonem, Orange SPV, Orange SPV C500, Orange SPV C550, Orange SPV C600, Orange SPV E100, Orange SPV E200, Palm Treo 700w, Pantech PN820, Qtek 6080, Qtek 7070, Qtek 8010, Qtek 8020, Qtek 8080, Qtek 8100, Qtek 8300, Qtek 8310, Qtek 8500, RoverPC M1, Sagem myS-7, Samsung i300, Samsung i310, Samsung i320, Sierra Wireless Voq, Smart Amazing Phone, Smart Amazing Phone II, Tatung M1, Tatung M1a, T-Mobile SDA, T-Mobile SDA II, T-Mobile SDA Music, Verizon PN820, Vodafone v1240, Vodafone VDA II, etc.
Pocket PCs Phone Edition
Alltel UTStarcom PPC6700, AnexTEK MobaDA 3360, AnexTEK SP230, Anex SP310, Audiovox PPC-4100, Audiovox PPC-5050, Audiovox PPC-6601, Audiovox PPC-6700, Audiovox Thera, Audiovox XV6600, Axia A308, BenQ P50, BenQ P51, Cingular 8125, Dallab DX8, Daxian CU928, Dopod 700, Dopod 818, Dopod 818 Pro, Dopod 828, Dopod 838, Dopod 900, e-plus PDA III, ETEN G500, ETEN M500, ETEN M600, ETEN P300B, Gigabyte g-Smart, Gigabyte g-Smart i, Gradiente Partner GP200, Grundig GR980, HP iPAQ h6315, HP iPAQ hw6500 Mobile Messenger, HP iPAQ hw6910 Mobile Messenger, HP iPAQ hw6915 Mobile Messenger, HP iPAQ hw6920 Mobile Messenger, HP iPAQ hw6925 Mobile Messenger, HP iPAQ hw6940 Mobile Messenger, HP iPAQ hw6945 Mobile Messenger, HP iPAQ hw6965 Mobile Messenger, HP iPAQ rw6818, HP iPAQ rw6828, i-mate JAM, i-mate Jamin, i-mate JASJAM, i-mate JASJAR, i-mate K-JAM, i-mate New JAM, i-mate PDA2, i-mate PDA2k, i-mate PDA2k EVDO, i-mate Phone Edition, Krome Navigator F1, Krome Spy, Laser mLaser, Lenovo ET960, Lenovo ET980, Lenovo i921, Mitac A701, Motorola MPx, O2 Xda, O2 Xda Atom, O2 Xda Atom Pure, O2 Xda Exec, O2 Xda II, O2 Xda III, O2 Xda IIi, O2 Xda IIs, O2 Xda mini, O2 Xda mini Pro, O2 Xda mini s, O2 XDA Neo, O2 Xda Trion, Orange SPV M2000, Orange SPV M2500, Orange SPV M3000, Orange SPV M500, Orange SPV M5000, Orange SPV M600, QTEK 1010, QTEK 2020, QTEK 9000, QTEK 9090, QTEK 9100, Qtek 9600, QTEK S100, QTEK S110, QTEK S200, QTEK S300, Samsung SCH-i730, Samsung SCH-i770, SFRV1640, Siemens SX56, Siemens SX66, Sprint PPC-6601, Sprint PPC-6700, Tata Indicom EGO, Telecom New Zealand Apache, Telecom New Zealand Falcon, Telecom New ZealandHarrier, Telecom New Zealand Thera, Telefonica of Spain TSM400, Telefonica of Spain TSM500, Telus UTStarcom PPC6700, T-Mobile MDA, T-Mobile MDA Compact, T-Mobile MDA Compact II, T-Mobile MDA Compact II, T-Mobile MDA II, T-Mobile MDA Pro, T-Mobile MDA Vario, T-Mobile MDA Vario II, Torq N100, Torq P100, Torq P120, Toshiba 2032, UTStarcom PPC6700, Verizon XV-6700, Verizon XV6600, Vodafone v1640, Vodafone VPA, Vodafone VPA Compact, Vodafone VPA Compact II, Vodafone VPA Compact s, Vodafone VPA III, Vodafone VPA IV, Willcom W-Zero3, etc.
Pocket PCs
Acer N10, Acer N30, Acer N310, Acer N35, Acer N50, Asus MyPal A600, Asus MyPal A620, Asus MyPal A620 BT, Asus MyPal A632, Asus MyPal A636, Asus MyPal A716, Asus MyPal A730, Audiovox Maestro, Casio E200, Cyberbank POZ-G300, Dell Axim X3 (300 MHz), Dell Axim X3 (400 MHz), Dell Axim X30, Dell Axim X30 Wireless, Dell Axim X3i, Dell Axim X5 (300 MHz), Dell Axim X5 (400 MHz), Dell Axim X50, Dell Axim X50 (520 MHz) Wireless, Dell Axim X50v, Dell Axim X51, Dell Axim X51v, Dopod Dopod P100, Fujitsu-Siemens Loox 410 BT, Fujitsu-Siemens Loox 420 BT/WLAN, Fujitsu-Siemens Loox 600, Fujitsu-Siemens Loox 610 BT, Fujitsu-Siemens Loox 610 BT/LAN, Fujitsu-Siemens Loox 710, Fujitsu-Siemens Loox 718, Fujitsu-Siemens Loox 720, Fujitsu-Siemens Loox C550, Fujitsu-Siemens Loox N500, Fujitsu-Siemens Loox N520, Fujitsu-Siemens Loox T810, Fujitsu-Siemens Loox T830, Garmin iQue M3, Garmin iQue M4, Garmin iQue M5, HP iPAQ h1910, HP iPAQ h1940, HP iPAQ h2210, HP iPAQ h3760, HP iPAQ h3850, HP iPAQ h3870, HP iPAQ h3950, HP iPAQ h3970, HP iPAQ h4150, HP iPAQ h4350, HP iPAQ h5450, HP iPAQ h5550, HP iPAQ hx2110, HP iPAQ hx2190, HP iPAQ hx2410, HP iPAQ hx2750, HP iPAQ hx2790, HP iPAQ hx3715, HP iPAQ hx4700, HP iPAQ rx1950, HP iPAQ rz1710, i-mate PDA-N, Mitac Mio 168, Mitac Mio 336, Mitac Mio 336 BT, Mitac Mio 338, Mitac Mio 339, Mitac Mio 528, Mitac Mio 558, Mitac Mio A201, Mitac Mio P350, Mitac Mio P550, Motorola TETRA PDA, NECMobilePro P300, Packard Bell PocketGear 2030, Packard Bell PocketGear 2060, Pharos Traveler GPS 505, QTEK G100, Toshiba e310, Toshiba e330, Toshiba e350, Toshiba e400, Toshiba e570, Toshiba e740, Toshiba e740 BT, Toshiba e740 Wi-Fi, Toshiba e750 BT, Toshiba e750 Wi-Fi, Toshiba e800 BT, Toshiba e800 Wi-Fi, Toshiba e830, Viewsonic V35, Viewsonic V37, etc