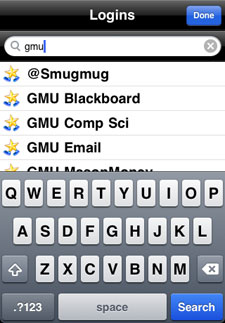 RoboForm para iPhone / iPod / iPad
RoboForm para iPhone / iPod / iPad
Siber Systems se siente orgulloso de enviar su administrador de contraseñas RoboForm a la iTunes App Store. Esta es una App libre que está disponible para todos los usuarios RoboForm Everywhere. Solo tiene que hacer clic en la siguiente imagen para abrir la iTunes' App Store que contiene RoboForm.
Version 3.3.7

RoboForm for iOS works in iPhone, iPad, iPod, iOS ver >= 4.2.
Having RoboForm Everywhere account is recommended, so that you can sync RF passcards between desktop and iOS device.
Version News
Ver 3.3.7 - Oct 15, 2014
Fix Sync reminder disappears after restart.
Fix Crash on delete of last login in folder.
Home Screen Adapter: added support for iOS 8.
Fix flickering on displaying iPhone tabs.
Many fixes for smaller bugs and crashes.
Ver 3.3.5 - Sept 5, 2014
Fix PIN is not requested after sending app to background with OTP request displayed.
Display OTP request with plain input (not ***).
Fix Basic Auth do not select matching login in some cases.
Fix Sync Reminder preference issues.
Fix crash on rename and delete passcard from passcard view.
Fix iOS8 display and UI issues.
Fix initial sync hangs after updating cache.
Use Crashlytics for catching crashes in public releases.
Ver 3.3.3 - Aug 31, 2014
Add One Time Password support.
Sync: Add reminder to sync every N hours.
Sync: add basic conflict resolver.
Create RFO account using new RF server.
New scale for Master Password timeout.
New scale for PIN timeout.
Fix crashes related to iTunesConnect.
Autosave: make 'Never for this site' button visible on iPhone.
Fix Dual Password does not work with '"Open logins in browser' off.
Many smaller User Intrerface fixes.
Ver 3.3.1 - Aug 05, 2014
Fix crash on start after some updates.
Fix navigation layout issue with active search field.
Ver 3.3.0 - July 23, 2014
Import/Open Logins (passcards) from outside app.
Open links with target=_blank in new tab.
Add dual password support.
Add ability to download files.
Autosave: add "Never for this site" button to save blocking passcards.
Preferences: add Search suggestions toggle switch.
Preferences: add ability to manage blocking passcards.
Preferences: add Clear Cookies button.
Fixed many bugs.
Ver 3.2.1 - May 28, 2014
Urgent: Fix RoboForm does not ask for Master Password when it is not cached.
Change home screen icons shape to round, per Apple guidelines.
Fix Printing does not work at all.
Fix Autosave does not update password.
Fix Logins/Identity editor delete button is displayed partially.
Identity Editor: add ability to select country.
Identity Editor: add flags to countries.
Identity Editor: add clear buttons for fields.
Identity Editor: add empty values for selectable fields.
Ver 3.2.0 - May 27, 2014
Identity editor: Fully reworked.
Home Screen: add long tap menu for items.
Home Screen: show large Apple Touch icons when available.
Preferences: Add 'Show Login Details' option.
Preferences: Add 'Open Login in Browser' option.
Login Editor: do not hide passwords while editing.
Identities button: show Main identities + All Identities button + All Contacts button.
Fix scrolling of long text in note field of Logins and in Safenotes.
Fix Basic Authentication fill/save does not work.
Fix Standalone Login has no edit button.
Fix Olf value of Login field is displayed editing is finished.
Make Safenote text accessible (but not editable) in view mode.
iPad: remove unrelated browser men utems from toolbar for Home Screen.
Ver 3.1.0 - Apr 30, 2014
Add Password Generator.
Update OpenSSL client to 1.0.1g.
Build login cache in background thread, to not freeze UI after sync.
Avoid device sleep while syncing logins.
Fix folder paths were truncated when moving passcard.
Fix statistics reporting.
Reset pin timeout on disabling pin code.
Preferences: use custom keyboard with picker for selectable values.
Change search string to 'Search Logins or Web'.
Ver 3.0.0 - Apr 14, 2014
New Use Interface design for iOS 7.
Browser-centric concept in new UI design.
Updated Login (Passcard) Editor.
Update SafeNote Editor.
Add Home Screen with most popular Logins.
Add ability to disable PIN entry.
Search: display RoboForm Login matches before Search Engine matches.
Matching Logins: add 'Submit after Fill' option.
Add 64-bit support (Arm64 architecture).
Fix Save bookmark without cached MP saves unreadable Login.
Minimal requirement: iOS 6.0.
Ver 2.7.1 - Nov 12, 2013
Minimal OS requirement is now iOS 5.
Fix iOS 7 master password not accepted if user taps OK in password request.
Fix crash when using proxy server with auto configuration javascript file.
Fix crash on displaying passcard site icon with non-padded bitmap.
Fix update usage info for passcards on view, edit and login.
Fix checking of correct injection of rf-ios.js into web page.
Fix saving of 'Web Browser->Open Mobile Sites' setting.
Fix Save bookmark without cached Master Password saves unreadable passcard.
Ver 2.6.0 - July 19, 2013
Browser: Add http digest auth support.
Fix: fill up sync progress to 100% in case of successfull sync.
Fix: Preferences: "Web Browser->Open Mobile Sites" toggle switch, press "Home", bring up RoboForm: value must remain unchanged.
Fix: Crash on displaying passcard site icon with non-padded bitmap.
Fix: ask for creating pin on upgrade from ver 2.2.8.
Fix: crash after sync in case opened item was changed or deleted.
Fix: crash on deleting passcard from list.
Fix: rename passcard from passcard view.
Fix: text editor fields does not refresh if cancel pressed.
Ver 2.5.0 - June 02, 2013
Add Identities editor.
Add full screen view for Passcards.
Add ability to pin Passcard to home screen.
Passcard List: show creation commands if there are no items in folder.
iPad: Add option to start with an open sidebar.
Fix Rotation not work on iPad with iOS 5.
Fix Browser's address bar not resized on iPad with iOS 5.
Fix Passcard list not scrolling after search.
Add ability to cancel pin code change (cancel button or shake).
Ver 2.4.1 - Apr 04, 2013
Fix crash on PIN entry in some devices.
Popup fewer message boxes when no internet connection is available.
Fix autosave popping after filling from matching passcard.
Better Identities view: split it into groups like in big RoboForm.
Add big buttons for Login, Goto, Email in Passcard view.
Fix fill from Identity when non-default instances are used.
Ver 2.3.9 - Feb 27, 2013
Fix horizontal layout on iPad.
Add option for default action of passcard.
Implement post-update page.
Remove 'Save Unprotected' option. All Logins and Bookmarks are saved protected.
Add Delete button to Login in Edit mode, similar to the buttons used in Contacts.
Add Delete option to the Logins list using the standard iOS delete sequence.
Fix option that determines what to show on app start, login list/or browser.
Fix App crash on start when < 2.0 version was previously installed.
Ver 2.3.6 - Jan 31, 2013
Implement Passcard Editor.
Add New RoboForm Everywhere account creation dialog.
On install perform the same master password processing as in desktop RoboForm.
Implement RoboForm Start Page.
Login when passcard is clicked, Edit passcard with click on the arrow.
Improve performance and speed, by improving cache.
A number of bugs fixed.
Add iPhone 5 and iOS 6.0 support.
Ver 2.2.8 - July 25, 2012
New: Tabs for iPad and iPhone browsers.
Fix Filler clicks submit even if nothing is filled.
Fix Browser fails to show sites with invalid certificates.
Make address bar be scrollable, together with browser page.
Ver 2.2.7 - July 02, 2012
Show fields and field names in 'summary' format.
New: auto-save logins, turned off by default.
New: Safenote editor.
New: ask user to rate app after using 14 days.
New: show logins and bookmarks site icons.
Fix: Do not forget normal mode navigation position on switch to browser.
Fix: iPhone navigation bar height in landscape mode.
Fix: Remove RFO login/password check, fixes sync problems.
Fix: Fix rare crashes on sync complete.
Fix: passcards index (1st letter) disappears on navigate.
Ver 2.2.6 - May 31, 2012
Fix auto-logoff timer.
Add Logoff button.
Request Master Password in-place.
Add 'Fill Non-Empty Fields' option to form fill form passcards and identities.
Add progress indicator to address bar in browser.
Fix incorrect layout when started in horizontal mode.
iPhone: add flip effect on change main view.
Fix special characters in RF Everywhere password.
Move stop/refresh buttons to the address bar.
Ver 2.2.5 - April 25, 2012
Fix special chars in RF Everywhere password not recognized.
Change user agent to be MacOS desktop Safari, so that passcards work.
Filling from Matching Passcards: fill only, perform no submit.
Fix Folder that contains only safenotes shows nothing.
Fix form filling on several web sites, related to JS and user agent.
Ver 2.2.4
Passcards: add "Send by Mail" action.
Fix Sync gets stuck at 25%.
New in v2.2.1 - April 2012
Major new release of RoboForm for iOS, new internals.
Form Filling from Identities has been added.
New in v2.0.2 - Mar 2011
Fixed issue with 'freezing' on the PIN Entry
Fixed issue with unresponsive toolbar button in some states
Fixed issue with folders and files that contain non-latin characters
New in v2.0
Native iPad support! Including a built in browser and toolbar button.
iOS 4 Multitasking support.
iPhone 4 Retina display graphics.
Speed enhancements for the method of passcard caching.
New in v1.2
Added "Matching Passcards" functionality. Select the "Matching Passcards" button from the browser toolbar as you do on the PC version of RoboForm, and Fill Forms or Fill & Submit on the current page, depending on the option selected in "Settings > Web Browser".
Search in Logins/Identities/Safenotes views is now recursive.
Filenames with international characters are now synchronized correctly.
Error explanations for data files encrypted with "RC6" method.
Special characters in Filenames, such as "+" are now working properly.
New, more intuitive Copy/Paste implementation that mimics other Apple iPhone Apps.
Settings have been removed from the global "iPhone Settings App" as a security precaution.
Added "Change PIN", it can be found in "Settings > PIN Entry".
Added "PIN Entry Attempts" option, which will allow the App to have a certain number of Entry attempts before locking out the user for a certain period of time.
Moved the "Forget Master Password" into the Settings tab from the Sync tab.
Added "Change Account / Password" button which allows to login to a new RF Everywhere account, with the added ability to simply update the used password for the RF Everywhere account. This no longer requires the App to restart after changing.
Added "About" section with version number and added support links
Ver más noticias >>
Características
Ve sus Conexiones, Identidades y NotasSeguras.
Realiza conexiones con 1-Clic usando el botón "Conectar" cuando vea una conexión de RoboForm.
Conexiones Multi-paso: use la funcionalidad de "Conexiones Coincidentes" del navegador integrado.
Sincroniza entre su cuenta RoboForm Everywhere y RoboForm en su dispositivo.
Visión Apaisada - Ahora puede rotar cualquier ventana.
Funcionalidad de Auto-Desconexión, por defecto es de 5 minutos desde el último uso.
Introducción de PIN - Añade Código PIN para la propia aplicación, necesario para acceder a RoboForm.
Búsqueda de archivos - Añadida la posibilidad de búsqueda recursiva sobre los archivos.
Desconexión Manual - Botón "Olvidar Contraseña Maestra" situado en "Configuración > Seguridad".
Cambio de cuenta - Botón de "Cambio de Cuenta / Contraseña" en "Configuración > Cuenta" que le permitirá cambiar entre cuentas, así como cambiar sus detalles de cuentas. Sólo se puede acceder a una cuenta cada vez.
Modo de uso
Use Roboform Desktop (Windows o Mac) para crear Conexiones, Identitidades, NotasSeguras.
Sincronice RoboForm Desktop con su Cuenta de RoboForm Everywhere.
RF para iPhone/iMac no puede Guardar o Editar Conexiones, de modo que usará conexiones guardadas por RF Desktop.
Cuando usted inicia RoboForm en un iPhone/iPad, sincronizará con la cuenta de Roboform Everywhere.
Sólo se descargan las Conexiones cambiadas desde la última sincronización.
Preguntas Frecuentes (FAQ)
P: He olvidado mi PIN para RoboForm. ¿Qué puedo hacer?
R: Para restaurar el PIN de RoboForm cuando lo haya olvidado, necesitará desinstalar y reinstalar la aplicación RoboForm para iPhone desde la iTunes AppStore.
P: ¿Porqué recibo el error "No puedo cargar la conexión: Formato de archivo incorrecto" al abrir archivos?
R: Hemos corregido el incidente que provocaba este problema. Para eliminar el incidente en su lado, por favor, borre la aplicación RoboForm para iPhone/iPad/iPod de su dispositivo; puede hacerlo manteniendo pulsado el icono de RoboForm en la pantalla de Inicio hasta que los iconos comiencen a "agitarse". Después puede hacer clic en el signo menos para borrar la aplicación. Una vez borrada la aplicación, vuelva a descargar la aplicación de RoboForm para iPhone/iPad/iPod de la iTunes AppStore y reconéctese de modo normal.
P: ¿Porqué se "bloquea" la pantalla o deja de responder después de introducir mi PIN?
R: Este es un problema conocido que se ha corregido en la versión 2.0.2 de RoboForm, que puede encontrarse en la iTunes AppStore.
P: ¿Porqué no funciona el botón de barra de herramientas en RoboForm para iPad?
R: Este es un problema conocido que se ha corregido en la versión 2.0.2 de RoboForm, que puede encontrarse en la iTunes AppStore.
P: ¿Cómo puedo ver el valor completo de un campo que se "recorta" ?
R: Estamos trabajando en una mejor forma de mostrar el contenido completo de un campo en los visores de archivos. Por ahora lo que puede hacer es mantener pulsado el campo y luego elegir "Copiar" y luego ir a la App Notepad del iPhone y pegar el contenido para verlo de forma completa.
P: ¿Están mis datos encriptados en el iPhone?
R: La aplicación de RoboForm para iPhone descarga copias de sus archivos de datos desde RoboForm Everywhere, que tienen exactamente el mismo formato y nivel de encriptado que usa su versión PC de RoboForm. De modo que si su versión PC de RoboForm utiliza una Contraseña Maestra, también lo hará su versión iPhone.
P: ¿Porqué no acepta mi cuenta de RoboForm Everywhere cuando intento conectarme?
R: Necesita introducir su nombre de usuario y contraseña que utiliza con RoboForm Everywhere, o si aún no ha creado una cuenta, necesita hacerlo en https://online.roboform.com/signup y seguir las instrucciones de sincronizar su versión PC de RoboForm con RoboForm Everywhere en https://online.roboform.com/get-started
P: ¿Por qué dice "No hay archivos en su cuenta" cuando intento sincronizar?
R: Para conseguir que RoboForm para iPhone detecte los cambios, en primer lugar necesita configurar RoboForm de su PC para sincronizar con RoboForm Everywhere, en otro caso, su cuenta de RoboForm Everywhere no tendrá archivos de datos para descargar. Por favor, siga las instrucciones sobre la forma de configurar su versión PC de RoboForm con RoboForm Everywhere en https://online.roboform.com/get-started
P: ¿Cómo puedo realizar conexiones con un clic?
R: Para usar RoboForm para iPhone para rellenar formularios de conexión, necesita abrir y seleccionar una conexión de la lista, y luego hacer clic en el botón de "Conexión" para comenzar el proceso de conexión con un clic. Desgraciadamente RoboForm para iPhone no puede integrar directamente con Safari cuando está fuera de RoboForm para iPhone App, pero hemos integrado una copia de Safari que puede utilizarse.
P: ¿Cómo puedo usar RoboForm con el Safari de Iphone?
R: La App de RoboForm para iPhone no se puede usar con el icono de "Safari" de la página de inicio de iPhone, debido a la forma en que Apple controla las "Apps" propias del iPhone. Ninguna aplicación de terceros puede acceder directamente a la App Safari del iPhone, no sólo la nuestra. Para soslayarlo, nos han permitido "crear" un navegador igual a Safari, pero integrado en la aplicación RoboForm para iPhone. La forma de acceder a esto es seleccionar una Conexión y una vez que se abre, hacer clic en el botón "Conectar". Esto completará la conexión al sitio web con un solo clic. Una vez hecho, simplemente haga clic en el botón Salir del navegador para volver a RoboForm para iPhone.
P: ¿Cómo puedo rellenar formularios desde mis Identidades?
R: Actualmente RoboForm para iPhone sólo cumplimenta desde Conexiones, aunque planeamos añadir la funcionalidad en una versión futura.
P: ¿Puedo añadir FichasAcceso/Identidades/NotasSeguras o editar las existentes?
R: Lamentablemente, por ahora la app de RoboForm para iPhone sólo es un "lector" de sus archivos de datos, y también rellena formularios de Conexiones. Planeamos añadir esta funcionalidad en el futuro.
P: ¿Qué es RoboForm y cómo usarlo en mi iPhone o PC?
R: RoboForm guarda su información de conexión (nombre de usuario, contraseña, etc.) en una "FichaAcceso" cuando trabaja con la versión de RoboForm Desktop. También tiene la posibilidad de "Sincronizar" con nuestro servidor RoboForm Everywhere, que luego puede propagar sus archivos de datos a su iPhone usando la aplicación RoboForm para iPhone. La aplicación RoboForm para iPhone permite Conexiones en un clic, lo que significa que si selecciona un elemento en RoboForm para iPhone, y elige "Conectar", se abrirá un navegador web integrado en la aplicación, se accede al sitio web y rellena y envía la conexión, completando el proceso de conexión automática desde el iPhone.