Password Manager: Saving Your Login Information, Creating and Using RoboForm Passcards
Learn how to easily save login information to RoboForm Passcards. A Passcard is a combination of login URL, your user name, and your password, which can be used to automatically log you into websites.
*Open a new tab in your browser before starting, so you can look back at these instructions for reference.

Saving Your Login Information into a Passcard™
Example:
www.yahoo.com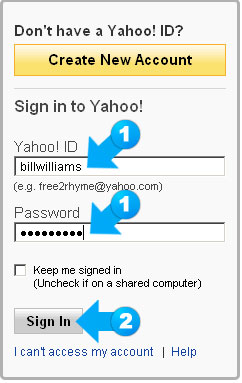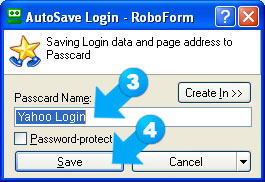 After installing RoboForm, a toolbar like the one shown above will appear at the top of your browser.
After the initial installation you will be prompted to create a Master Password which will be used for added security with your passcards and other saved information.
*Note: The Master Password is the only password you will need to remember. From this point forward RoboForm will remember the rest.
To create a Passcard with your login information, simply go to any website which requires your login information and type in your normally used User ID and Password.
Click on the Sign In/Login button.
An AutoSave dialog will pop up and offer to save your login information into a Passcard.
Click the Save button and your Passcard is created!!!
*A basic domain name will be displayed as Passcard Name. You can rename the passcard and edit this name at any time.
Using the Passcard™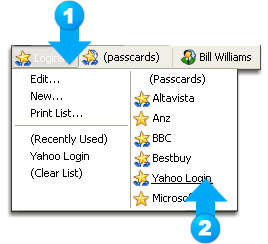 Example:
www.yahoo.com
Log in to your favorite websites in One Click
Click on the Logins button in the RoboForm toolbar. You will be shown a list of your saved Passcards.
You can select any one of the Passcards and Roboform will automatically log you in.
Fill Login Information from Passcard in One Click
When you reach a website for which you have already created a Passcard, you will notice that the name of the Passcard appears in the toolbar.
Click passcard name on toolbar and RoboForm will fill the login form for you.
Next >
Proceed to the RoboForm Form Filler tutorial.
* RoboForm offers even more great functionality; feel free to browse our Passcard Manual for additional information and a more in-depth look.