Master Password: Password-Protect All Your Files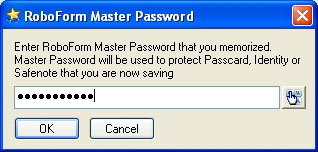 When RoboForm is installed for the first time you will be asked to create a Master Password. The Master Password is important when protecting your Passcards, Identities or Safenotes. If others have access to your computer we recommend encrypting your data by setting up a Master Password to safeguard all of your important information.
* We describe password protection as applied to Passcards for brevity. All commands and displays are the same for Identities and Safenotes.
Master Password Setup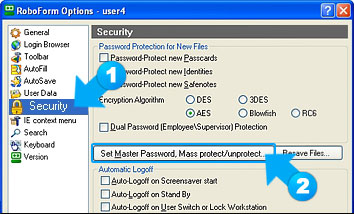 If you did not set-up your Master Password during the installation, you can set one up any time.
In the RoboForm toolbar select RoboForm -> Options -> Security.
Click Set Master Password and create your Master Password.

*It is important that you remember your Master Password in order to access your Passcards, Identities, and Safenotes in the future.

Enable Password Protection for New Files to safeguard all of your Passcards, Identities and Safenotes.
Next >
Proceed to the RoboForm Search Box tutorial.
* RoboForm offers even more great functionality; feel free to browse our Password Protection Manual for additional information and a more in-depth look.