Form Filler: Filling Your Information into Online Forms with One Click
Learn how to fill long registration and checkout forms with one click using RoboForm Identities.
Setting up an Identity for Filling Registration and Checkout Forms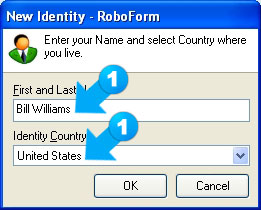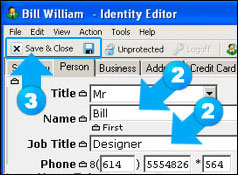 Click Setup Form Filling on the RoboForm toolbar to setup your Identity. This information can later be used to fill forms with one click.
You will be prompted for your name and country to appropriately set up your Identity.
Go through the various tabs and enter your information in the appropriate fields.

* RoboForm will warn you when you are filling in sensitive information such as credit card and bank numbers.

Click on Save & Close button. Your identity set-up is complete!!!
Filling Registrations and Checkout Forms Using Identities

Go to any online registration or check-out form and Click on <Your Identity Name> on the RoboForm toolbar. RoboForm will fill the forms automatically.

* To go back and Edit your Identity, mouse over your identity name on the RoboForm toolbar and select Edit.
Form Filler Sample