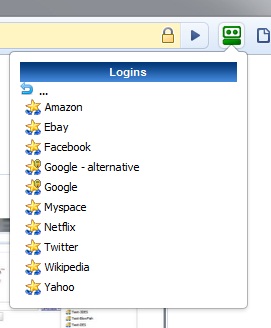 RoboForm for Chrome Logins Menu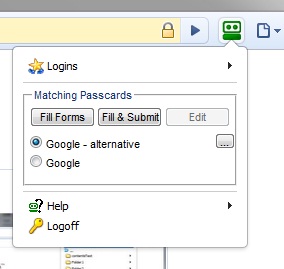 RoboForm for Chrome Matching Passcards
RoboForm For Chrome
RoboForm for Chrome comes in two incarnations:
(1) RoboForm Online 1-button extension,
(2) Full RoboForm toolbar, see bottom of this page.
Updated June 2, 2010

(1) Chrome 1-button Extension
RoboForm extension works on Chrome ver 4 or later.
Download RoboForm from Chrome Extension Site:
https://chrome.google.com/extensions/detail/
You can also get it directly from our site:
http://www.roboform.com/dist/rfchromejs.crx
Overview. RoboForm Extension is one button next to Address bar.
Click it, enter your RoboForm Online userid and password.
RoboForm Online. RoboForm Chrome extension stores Passcards (saved logins) on RoboForm Online server at online.roboform.com.
RoboForm Online UserID and Password allow you to gain access to your passcards stored on this server. You get these credentials when you create RoboForm Online account. These credentials is something you must memorize, so that you can access your passcards from any computer by providing these credentials.
Logins menu. You see list of Logins (Passcards).
Select one and RoboForm logs you into this online account.
Matching Passcards. RoboForm also shows passcards that match the web site you are browsing. Select one, click Fill Forms and forms will be filled from the selected passcard.
AutoSave. Login info for new sites (not previously saved by RoboForm) is saved automatically. RoboForm toolbar appears at the bottom of the window, you enter Passcards name and confirm saving of login info.
Master Password. Passcard is an encrypted file that contains login info for one web account. We use Master Password as a key to encrypt Passcards stored on server. Master Password is not stored on server, only you know it, so your data is secure. You will be asked to create Master Password when you use RoboForm for the first time.
For Existing RoboForm Users.
RoboForm Online for Chrome ver 2.0 faithfully reproduces most RoboForm functions:
- It can do one-click login.
- It shows Matching Passcards.
- It auto-saves new login info when you submit it, see lower toolbar.
- You can view a passcard contents: click "..." or right click passcard in the list.
You must Sync your passcards to RoboForm Online server, before you can see them in RoboForm Chrome extension. To sync passcards click the Sync button in RoboForm toolbar. In addition to providing passcards to Chrome extension, RoboForm Online server is used by RoboForm client to synchronize passcards and other RoboForm files between your computers.
Latest News.
Verion 2.1.8
- Form Fill for United States and common fields.
- Show *Loading image* while opening popup menu.
- Reposition the context menu.
- Version 2.1.6 released on Mar 22, 2010 adds Identity viewer and improves context menus.
- Version 2.1.3 released on Mar 12, 2010 adds Search box to Logins menu and Options dialog.
- Version 2.1.1 released on Mar 9, 2010 fixes Master Password caching problem.
- Version 2.1.1 moves AutoSave toolbar to the top of browser window.
- Ver 2.1.0 is brand new release of the extension that implements one click Login and AutoSave.
Troubleshooter.
You should have cookies enabled for RoboForm extension to work.
You can enable them in Wrench button -> Options -> "Under the Hood" tab -> Privacy : "Cookie settings...".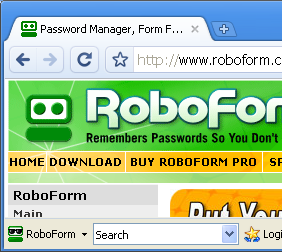 RoboForm for Chrome
(2) RoboForm Toolbar for Chrome (Beta)
RoboForm now works with Chrome and Chromium browsers.
Chrome Adapter is required for RoboForm to integrate into Chrome.
Complete RoboForm functionality is available in Chrome.
Current version of Chrome Adapter is 1.0.9.51.
Installation.
Install RoboForm version 6.9.99 or later from Downloads page
Install the RoboForm for Chrome Adapter from Chrome browser: roboform-chrome.crx.
Of Notice.
The RoboForm toolbar will only attach to the bottom of the browser.
If you closed the Roboform toolbar, right-click RoboForm systray icon and select Show Toolbar.
Support.
This is an alpha version created for testing and feedback purposes. We encourage you to send us any comments/bug reports via our online support system. Check this page often as we are actively developing and will release updates frequently.
News.
Version 1.0.9.51
- Imporve form filling on pages with SELECT.
- Speed up.
- Fox bugs.
Version 1.0.9
- Made AutoSave work.
- Improved formfilling from Identity.
- Improved Find Submit Button.
- Fixed disappearance of toolbar.