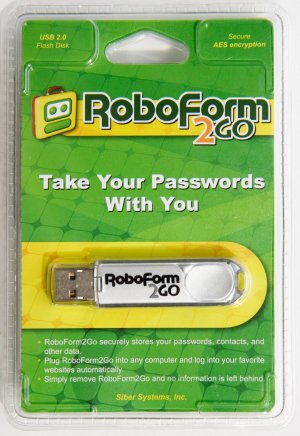 RoboForm2Go USB Disk Packaged
RoboForm2Go USB key is our own USB key that was designed and tested to work best with RoboForm2Go software. You can buy it in addition to RoboForm2Go software or you can use your own USB key.
Why Buy RoboForm2Go USB key.
* Some keys have slow USB-1 speed.
RoboForm2Go has real USB-2 speed.
* Small size -- smaller than many other keys.
* Durability -- RoboForm2Go is made of durable plastic.
Buy Now!
* RoboForm2Go USB Disk (1 Gb) is only $9.95
if you buy it together with RoboForm2Go software!
* Existing RoboForm users can pay less on Upgrade Order page.
How to Install.
When you receive RoboForm2Go USB key that you purchased:
* Insert RoboForm2Go key into USB socket of the computer where you have desktop (Fixed) RoboForm. If you have not used RoboForm before, any desktop or laptop computer would do.
* Computer recognizes new USB device and installs drivers.
* RoboForm2Go install window comes up.
* Click "Install RoboForm2Go" button and follow instructions.
* Rf2Go installer will copy passcards and identities from your desktop RoboForm to USB key, there is an option for that.
* Click "Activate RoboForm Pro" button and proceed to activate your purchased copy of RoboForm2Go.
* The above installation and activation should be done only once per USB key, upon unpacking it.